The goal of creating the Spotify Artist Profile is specifically to help musicians use the platform to an optimum level. This particular profile has grown in popularity due to its unique marketing capabilities compared to promoting your music on YouTube or other social media. Musicians that have tried it can't praise it enough for the impact it has had on their streaming numbers and follower count.
It is no surprise for an upcoming artist or one already in the industry if your curiosity has been stirred up with all the buzz about Spotify Artist Profile. You are supposed to be intrigued by it, and if you are looking to find out more about it, you are at the right place.
This article will help you with the information you seek by exploring the best way to create a Spotify Artist profile step-by-step.
6 Steps to Creating the Best Spotify Artist Profile
The steps below will explore how you can create the best Spotify artist profile after claiming it.
1. Write an Artist Bio
The first step in personalizing your artist profile is to add a summary of who you are, your history, vision, mission, and achievements. You should ensure that your bio captures your journey well enough for listeners who identify with your brand to find you on the platform. Your bio also helps users differentiate your profile from other artists with a similar name.
2. Upload an avatar and header
Your artist photo contributes massively to your personality and brand as a musician on Spotify. You should have a professional photographer take pictures of you, so they capture your essence well. This may seem trivial, but users see the difference between a professional photograph and an amateur one when they encounter them.
When uploading your chosen image, make sure you upload one with a high resolution and size that is less than 20 megabytes. To prevent pixelation, your avatar image should be at least 750px x 750px and your header image, at least 2660px x 1140px.
Your image should also not include text, advertising, or have a busy background. It should also not promote an upcoming tour or album release.
3. Add Social Media Profile
Since a musician's marketing strategy is not only executed on Spotify, the platform encourages you to include links to your other social media profiles on your artist profile. This informs your listeners of your other networks, and it also gives them the option of quickly sharing your music on their other social profiles.
4. Create A Gallery
You can add up to six images to your Spotify gallery, which is available in your profile's "About" section. Use images that describe your personality and capture your career-related activities for your followers.
5. Make your Playlists
Include personal playlists so that your listeners can share in your musical tastes. This increases the chance of people reaching your music through the "Fans also like" section when listening to other songs that share a playlist with your song.
6. Update your Artist Pick
The Artist's pick is another feature exclusive to musicians who have activated their Spotify artist profiles. It gives them the freedom to pin a song, an album, or a playlist to the top of their profile with descriptions. The artist can also pick images to display at the top of their profile for 14 days. This can be a way to announce a new song or album using a cover or a tour using a poster. You can also share this information with your audience based on their location.
Claiming Your Spotify Artist Profile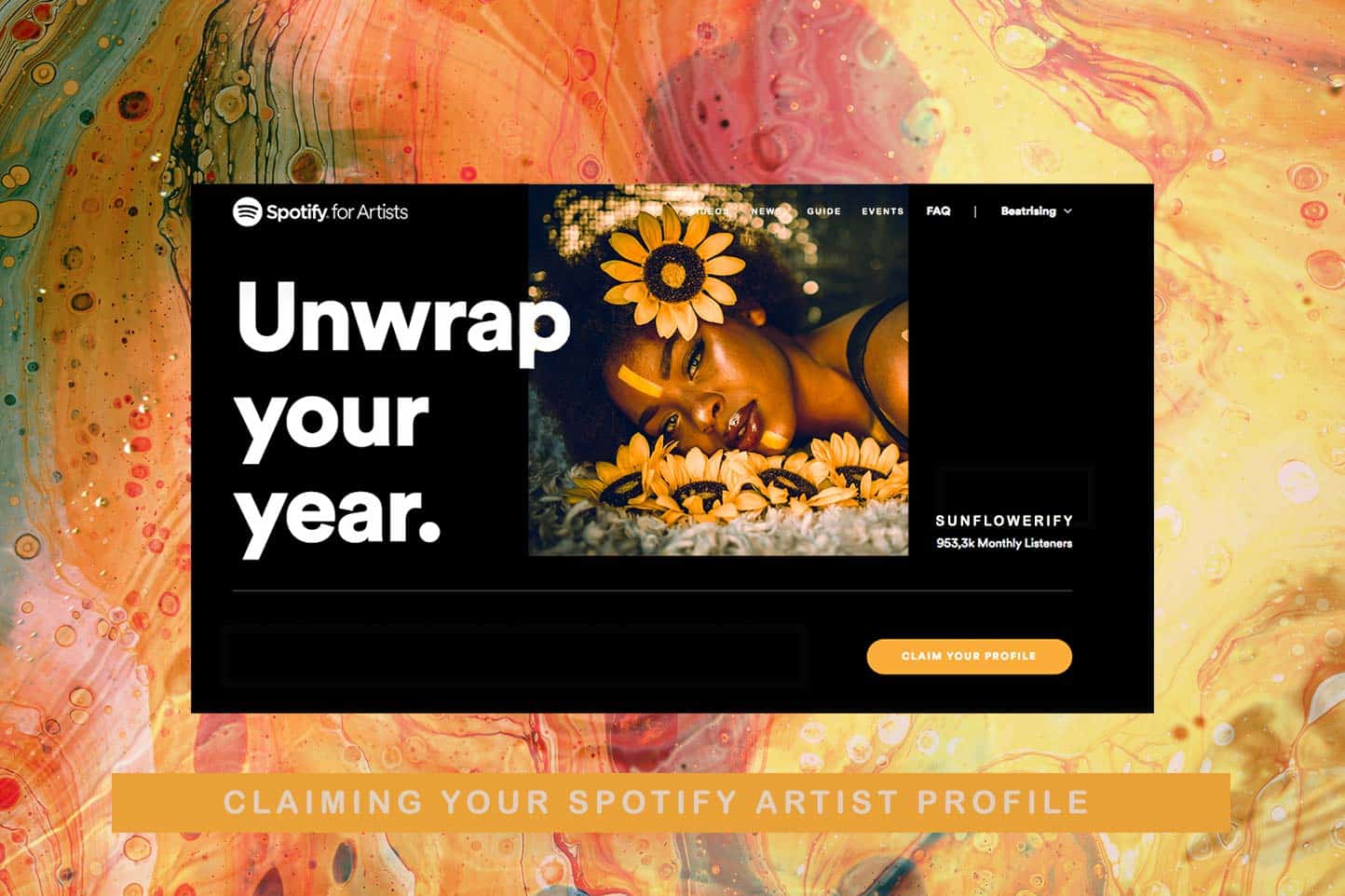 Claiming your artist profile page gives you better control of your profile, gets you verified, and grants you access to more information on users streaming and following your work.
Spotify Artist Profile helps you change your banner image, add a bio, promote your shows and merchandise, and market your songs by allowing you to submit them to playlists. And this won't cost you a thing.
Copy your artist page link and claim it at artists.spotify.com. Here you will select whether you are an artist or manager and request access.
Spotify will have to review your request to make sure your identity checks out.
Once you check out and get access, you can log in to your page and make changes that provide enough information about your work and your brand.
There are situations where artists may have the same name or get mixed up. Reggae artist Pressure and Swedish band Pressure present a prime example of this dilemma being avoided between artists because they have claimed their artist profiles. The profile customizations and different artist links that an artist profile provides have made it easy to differentiate between them regardless of the same name issue.
Team Members on Spotify Artist Profile
A music career is not just about the singer. Other players like bandmates, the music manager, live agent, publicist, lawyer, etc., come together to support the musician to make their brand successful. A musician's artist profile on Spotify is part of that brand and thus should appropriately be managed by a team.
Spotify understands this and provides options to help bring your whole team into your account with their associated roles.
You can give three levels of access to other team members who join your Spotify artist profile: Full access, edit access, and view access.
Full access gives the user complete access to all features in your profile. This means editing your profile, access to your profile's statistics, and the ability to invite other team members. A person with this level of access can also see every other member added to the profile and edit their privileges. This kind of access gives a band member or manager on the team.
The user can also update your profile and access the statistics with edit access. They can also invite new team members who will either have the same level of access or the view-only kind. Edit access permits a user to see every member who is part of the profile except their emails. Your team's booking agent is an example of a person who will require this level of access.
A user with view access membership doesn't have access to the "Team" section of the profile or the ability to change profile settings. This means they can't invite new members to be part of the profile. This type of user only has access to the page's streaming numbers.
To be able to add other team members to your artist profile, you should first have admin access to your profile.
Log in to the Spotify for artists page and click on the three dots at the top-left corner to open up the side menu.
Select the "Manage team" option.
Next, choose INVITE if you want to invite one person or BULK INVITE if you want to invite multiple team members at a go.
For any option you choose, add a name, business email address, and the person's role. This is also where you select the kind of access level they will have.
Select SEND INVITE to roll out your invitation via email.
You will do well to note that adding team members to your Spotify for Artists is a feature that is not yet available on the mobile app.
Benefits of Spotify Artist Profile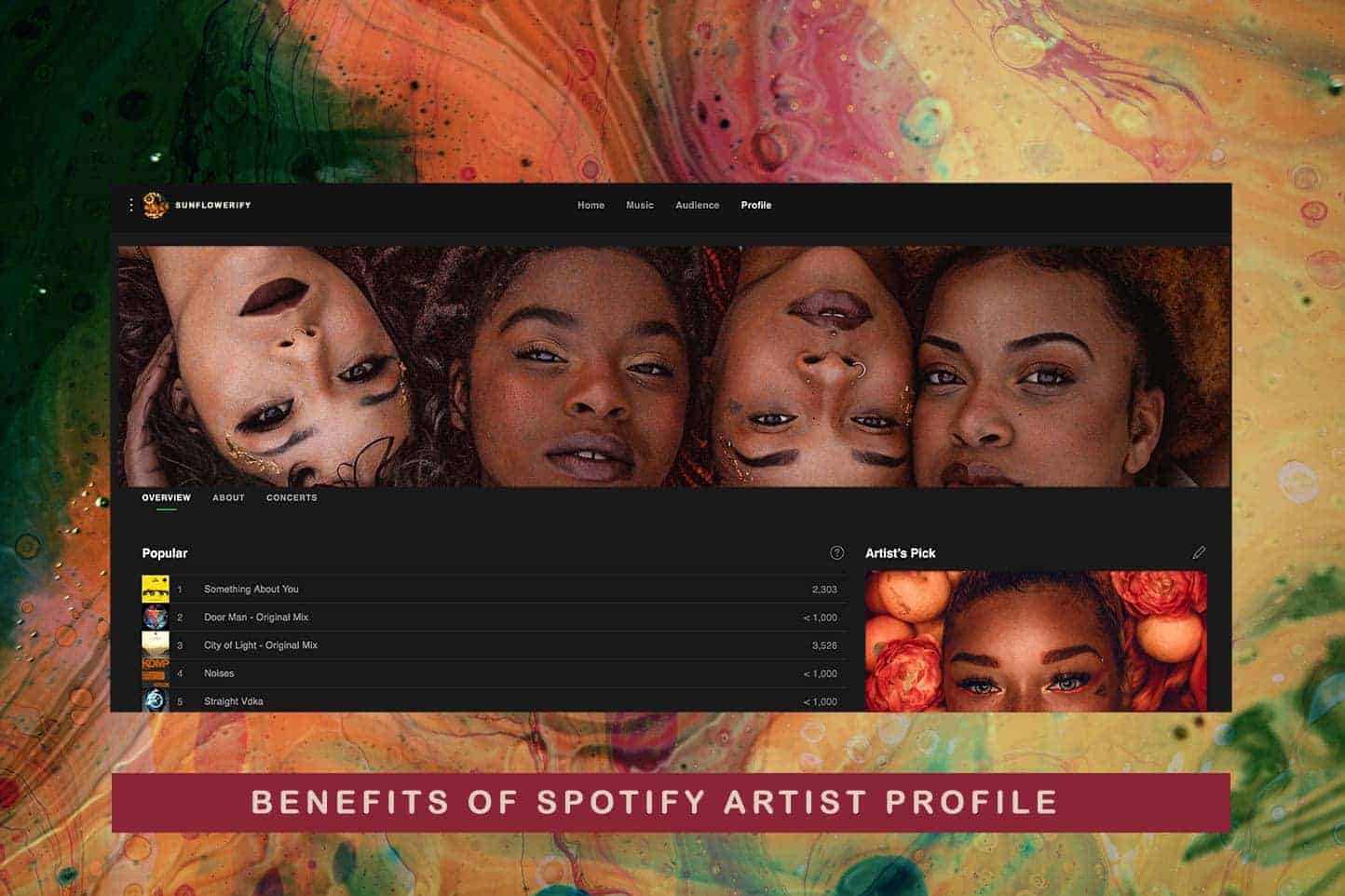 Creating a Spotify Artist Profile opens up your online music career to several opportunities at no cost.
With this type of profile on Spotify, you increase the chances of your listeners finding your music. If you share the same name with another music artist, having your profile verified helps set you apart from similar ones.
Apart from the revenue you generate from streams, your artist profile on Spotify integrates with third-party tools like Merchbar to enable you to set up an online shop. You can sell merchandise directly to your fans on the platform, maximizing your income.
Spotify occasionally releases new features that are made available only for artist profiles. An example of this is the tip jar feature introduced during the early days of the global pandemic. Since artists could not perform at events, Spotify created a "Tip jar" to encourage users to donate directly to relief funds. You can set up these funds to help support registered artists who made financial losses due to canceled shows.
You get the chance to use the Spotify artist pick feature to promote your new songs, playlists, concert dates, geolocation tour dates, and event ticket sales.
Spotify playlists are one of the platform's most essential features for musicians using an artist profile. The feature has helped shoot many artists into stardom by assisting them in gaining millions of streams and followers.
Statistics show that people listen to playlists more frequently than albums, accounting for 31% of music listened to online. Most playlist curators have a music-first policy, thus providing upcoming artists with one of the best opportunities to expose them to a broad audience.
By using playlists, musicians can also match up with the right listeners. Spotify's playlist algorithm can use your song's features to find the audience likely to listen to it using looking at their usage history and activity. This can help you cut a lot of marketing costs for an artist.
Like Conner Youngblood, you can succeed as a musician using the Spotify artist profile's playlist tool.
Spotify for Artists simplifies your ability to track the performance of your songs and which kind of audience subscribes to them. It helps you know and understand who likes your music and who is likely to appreciate it too. With the user analytics available, you can also measure how your fan base is growing and plan out how you can engage them over time.
By looking at the change in the data your artist profile gives you access to, you can check trends and analyze the effect of your marketing activities on your audience.
You can track singles or albums this way with the option of choosing specific time frames for your analysis.
A Spotify artist profile also gives you access to the Spotify Canvas feature. It offers the option of having a 3-8 second video loop on the listener's mobile app. It may not be a full music video, but it is not static or dull as album covers. You can also set different Canvas clips for every song.
According to Spotify, when listeners see a Canvas, they are more likely to keep streaming (+5% on average vs. control group), share the track (+145%), add to their playlists (+20%), save the track (+1.4%), and visit your profile page (+9%).
Canvas also allows you to share your songs on social media channels like Instagram stories with your short video clip looping in the background.
Wrapping Up
The importance of a Spotify artist profile in the career of any musician today can't be ignored. It offers the best tools and channels to promote your songs and albums efficiently. On the platform
You can read more about how you can take advantage of all these Spotify promotion opportunities on our blog.