This post will examine what constitutes social media, is YouTube social media, and how an individual or business can take advantage of its use.
With 9 out of 10 people using social media each month, platforms have undoubtedly been the most popular internet applications over the past decade. Social media continues to grow in popularity with an annual growth rate average of 12.5% since 2015.
What is Social Media?
Social Media is used to collectively define web and mobile applications that create online communities where people interact and share content.
What started as a simple communication has transformed into a platform with use cases limited by creativity. People use social media for marketing, sales generation, research, etc.
Currently, there are over 100 social media platforms that can be grouped into 6 main types:
1. Networking sites
These are platforms that promote connections between individuals. People can make new friends and get in touch with old ones and family. Most of the earliest social media applications, such as Facebook and MySpace, were made for this goal.  
2. Review sites
Other social media platforms like TripAdvisor enable people to present their thoughts on places they have visited, products they have used, or services they have received. 
3. Media Sharing
Platforms like Instagram, Vimeo, and Snapchat help people share images and videos online. This promotes curation and engagement and encourages bonding between people with the same creative interests.
4. Community blogs
Not everyone is ready to own and manage a blog to express themselves online. Some social media networks like Medium provide these people with an outlet to post articles and also help them connect with their audience.
5. Forums
Where people interact, there will be discussions that turn into arguments or debates. Anyone can ask a question or make a statement that attracts opinions from others with similar interests. Social media sites like Quora and Reddit foster conversations between users.
6. Sharing Economy 
Social media platforms have gone beyond promoting conversations to becoming a place where people can share actual resources. This can be anything from a temporary living space on Airbnb to an under-utilized car on Getaround.
Is YouTube Social Media? Why Does It Qualify As A Social Media Platform?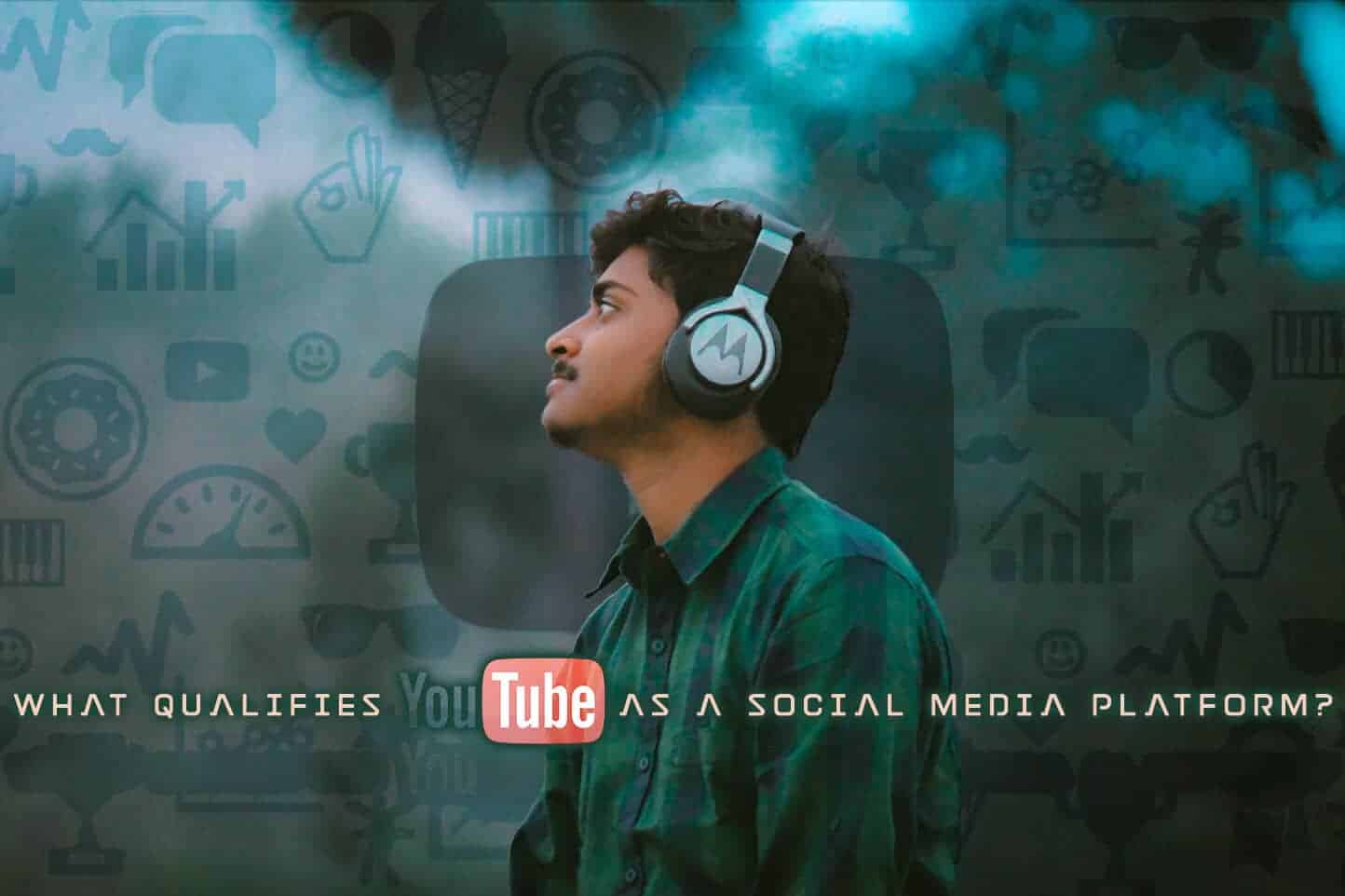 YouTube is currently the second most-used social media application, after Facebook. It has about 2 billion active monthly users and expects to add more in the coming years. 
This section will compare the features of social media and YouTube to help you understand what qualifies youtube social as a social media platform.
1. User-Based
A social network brings a set of actors, either individuals or organizations, together with a social structure to foster communication and bonding. This definition is independent of the internet or anything digital; it was the concept upon which social media applications were built. For these online platforms, the actors are mainly the users.
YouTube allows individuals and organizations to sign up as users and associate each user with a channel. 
Users interact by creating videos and uploading them onto their channels.
2. User-Generated Content
One prominent feature of social media applications is that the content on the platform is a combination of uploads from users. 
As a user, you are shown uploads from other users that you choose to follow or advertised content from those you don't mind. This curated content is presented to you as your timeline.
Applications like Netflix and Hulu are not considered social media platforms like YouTube because the videos available on those platforms don't come from user uploads. These services have already existing content that users subscribe to view instead.
YouTube would fail if all users just signed up and didn't upload videos, but Netflix wouldn't. Netflix doesn't even provide the option of uploading content in the first place. 
3. Engagement
Social media applications allow users to like, comment, or share content that they find interesting. Like any social structure, the platforms promote the desire of users to gain popularity among other users.
This strategy is mutually beneficial to both the application creators and the content creators. 
Users aim at getting other users to engage with their uploaded content. The more engagement this content can generate, the more popular these users become.
Thus, social media provides users the opportunity to attain celebrity status through their activities on the platforms.
The platform operators capitalize on the engagement drive of users to generate traffic. They then focus on converting the traffic into subscriptions, creating more business.
YouTube follows this approach by allowing likes, dislikes, comments, and sharing options for videos uploaded. Users can subscribe to channels so the platform can also track popularity statistics.
4. Revenue Generation
Since social media platforms depend heavily on user-generated content, users are incentivized with rewards for the number of engagements they can get with the content they upload.
The platform operators treat users as publishers and pay them an agreed amount based on the amount of traffic the content uploaded gets.
For this reason, users focus on creating quality content to please others. They also spend a lot of time and effort to promote this content to people on the platform or other social media sites.
As content reaches a broader audience, so does the platform which hosts it. The popularity of a social media application directly influences the number of new subscribers it gets, the number of active users it has, and how valuable its marketing spaces are to other businesses.
Platform operators also leverage the popularity of their social media applications to sell advertisement spaces to other businesses. 
YouTube pays channels for the amount of traffic and engagement their videos can generate on the platform. This model has been booming to the point where the platform has professional content creators, commonly known as YouTubers, who make a living off the amount they get paid for the videos they upload.
Looking at the statistics of users, active users, and YouTube views, it is no shock that over 55% of marketers prefer reaching their target audience through the platform.
There is even the marketing aspect where businesses pay content creators to feature their products and services within their videos. These advertisement agreements are done independently of the YouTube platform operators.
Wrapping Up
Is YouTube social media? Yes, it is currently one of the most popular social media platforms for sharing video content. According to Sprout Social, the platform has about 37 million YouTube channels with over 500 hours of video content uploaded every minute.
With the number of active users, user-generated content, and engagements on videos, YouTube is as social as any social media gets.
The internet and social media have a great impact on the music industry. If you want to know more about this, check this article!
Extensive knowledge of the platform can help you use it effectively in your social media marketing strategies. You can also subscribe to services like those offered by Songlifty for your digital promotion activities on Spotify, YouTube, SoundCloud, TikTok, Instagram, and Facebook. These service providers have years of experience doing social media marketing and can help you save a lot of time and effort.