Making the best music videos for YouTube is only half the job. You need to market your videos so they can reach the masses. If you can do the marketing of the YouTube music video the right way, you can get traffic in the millions. On the other hand, with poor YouTube promotion, even the best videos can get lost in the crowd.
YouTube is owned by Google, the number one website in the world. YouTube alone has over 2.1 billion active users in 2021, and the number will only go up in the coming years.
Over half the active users belong to Gen Z, and 80 percent of the traffic comes from the USA, which is the most valuable type of traffic in terms of revenue. You can release your music video in over 80 different languages.
Considering all these benefits of YouTube, If you are a musician, you must place your videos on YouTube. Not doing so will only make you lose free traffic. To get the most out of YouTube, you need to do 2 other things besides making awesome music videos.
The first one is making your YouTube channel optimized and look professional. After that is done, you would need to promote your videos which can be done by 2 methods or a combination of both.
The free method to promote your YouTube video is organic, which means talking about it in forums and sharing your video across your social media. The other way is leveraging the power of online advertisement, which you can publish on YouTube or other platforms to bring traffic to your videos. When done right, YouTube ads for music videos can get explosive results, making a video famous overnight.
Both the strategies work well when all the steps are taken correctly. Most people are impatient to wait for the YouTube algorithm to pick up their videos which is why marketing is essential.
Why Promote Your Music with YouTube Ads?
Before spending a significant amount of YouTube Ads to promote your music videos, it is essential to know if it works. The short answer is yes, it does. If it didn't, you wouldn't be seeing brands investing so much money on YouTube ads to promote their products and services.
It doesn't only work for businesses but also for music videos by artists as well. According to statistics, viewers who watched a TrueView ad on YouTube are 23 times more likely to return to the channel and subscribe to it even if they didn't finish watching the ad.
This proves how powerful YouTube ads are to attract viewers that might never even hear about you to visit your channel. If your music matches their taste, they will subscribe to your channel. You can make sure that you target the right audience for maximum conversion.
For example, if your singing style matches Lady Gaga's, you can choose to run ads on a particular song of Lady Gaga on YouTube. There are 3 different kinds of YouTube ads you can choose from.
Depending on the type of YouTube Ads you select, they would have no option but to listen to your song for 6 seconds or much more. They might choose to go to your channel instantly or skip the ad to watch the video they wanted to watch but come back later to subscribe to your channel. These scenarios show how YouTube ads can be an excellent tool for musicians to gain traffic to their channel.
10 Tips to Optimize YouTube Ads for Music Videos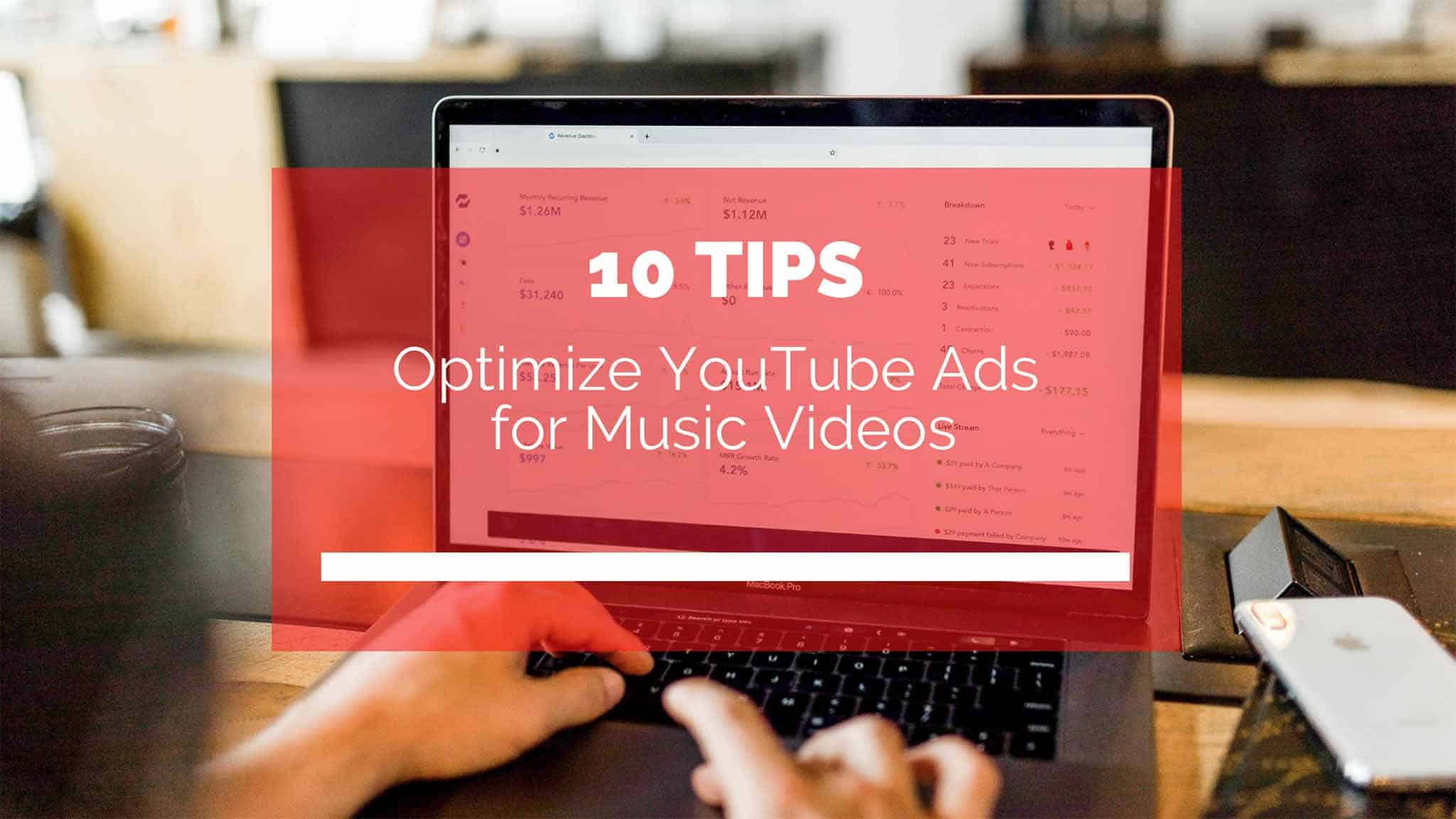 YouTube is a product of Google, so when you are running an ad on YouTube, you are also leveraging the database from Google. We have already discussed why it is essential to run YouTube ads to promote your music video.
Now, let's talk about ways you can optimize the YouTube ads better so you can reach your target audience. It is good to run YouTube ads to promote your video, but if things are not done right, you can waste a lot of money in vain.
We have got you covered. We will talk about 10 tips that you can quickly implement while running YouTube ads for your music video. These tips will help you increase your conversion rates while ensuring that your money is spent wisely and on the right audience.
1. Knowing which metrics to track
The first thing that you need to be aware of while running YouTube ads is to know which metrics you need to keep track of regularly. Online Paid Advertising involves a lot of trial and testing, and you can't do a good job of running ads if you are not sure which metrics you need to keep an eye on.
We will now talk about some of the most common types of metrics that you should regularly check to make sure that your YouTube ad campaign is going in the right direction.
Views and Impressions: The most common metric that you need to look out for is the view rate. This tells you how many people are watching your ads and how many are choosing to ignore them. If you have a poor view rate, you need to work on your video ads as it is not able to connect to the audience.
Audience Data: The type of audience that is watching your videos is very important. You sometimes think that a particular type of audience is your ideal audience, but the reality is completely different. You find out that your videos are being viewed by a specific type of audience that you could have never predicted.
Under this section, you can see the age, sex, location, parental status, and even the household income of your audience. This data helps you plan your ad campaigns smoothly and gives you a better understanding of which audience you need to target.
Conversions: The number of people who have taken specific actions that you desire after watching the ads are called conversions. Your campaign is going well if your conversions are well. Even if you have good views and impressions, but your audience is not converting, there must be something wrong with the ad.
Your ultimate goal is to make your audience convert so you can increase your ROI. The conversion is okay if more people land on your music video after watching the ad. If not, you need to make changes to the advertisement campaign.
View Through Rate (VTR): The VTR indicates whether your ads are getting through to your audience. If you can increase the VTR of your ad, the cost per view (CPV) of your ads will decrease.
2. Tracking Low-Performance Placements
An excellent idea to gain more conversion is to run in-display ads displayed not just on YouTube but all across the Google Ad network. It is essential to see how these ads are performing. You can review where the ads are placed and how well the ads are performing.
If you notice that some of the ads are not performing well, you must place them in a better position so they can attract the attention of the viewers. You can also choose to use other graphics for in-display ads if they are not converting at all.
3. Use YouTube Targeting the Right Way
Like other social media platforms like Facebook, Twitter, and Instagram, you can also use YouTube data to target the right kind of audience. Billions of people visit YouTube daily, which means that they have a huge collection of databases.
You can choose which type of people you want to show your ads to. This means you need to be familiar with your target audience. You need to know their age group, whether they are male or female, where they could be located, and various other factors.
You can use demographic targeting based on location or custom-affinity audience, which means users consume content similar to your channel. As we mentioned earlier, you can choose musicians on YouTube whose videos are similar to yours. You then need to run your ads on their videos which increases the chances of conversion because you are targeting the right audience.
4. Add Interactive Elements to your Ads
You can choose to connect your official website with YouTube TrueView Ads, or you can create a call to action that tells the audience to go to your channel. If you have created an App hosting your music albums, you can use auto-end screens to ask the audience to purchase the app.
Interactive elements are a fantastic feature of YouTube ads, and you should take advantage of them to lure your audience to your offers. Even as a musician, you should have a website to sell merchandise.
5. Use Both TrueView Ads and In-Display Ads
Both TrueView and in-display ads work in separate ways. While TrueView ads are played at the beginning of the end of a YouTube video, in-display ads are shown as a result after the user conducts a search. Both have their own merits and are excellent for driving more conversion.
As an advertiser, you need to have a separate budget allocated for both types of ads. The strategy you chose to promote both types of ads should also be very different. It is important to evaluate the performance of both types of ads to ensure a huge ROI.
6. Retarget Wisely
In Facebook, retargeting prospects are very common. It is done with the help of pixels. Similarly, it is also possible to use YouTube ads to retarget an audience who has shown some interest in your video ads.
The interest could be visiting your website or YouTube channel or watching your video ad for a healthy amount of time, proving that they are interested in your music. In our opinion, retargeting the people who already have shown interest in your music is the safest bet.
Often it takes more than one time to convert a prospect. They need to be exposed multiple times to your content before they subscribe to your channel. Retargeting through YouTube ads is the best way to do that.
It is important to select which audience you should retarget wisely. You must look into the metrics and determine which audience group might convert if you retarget them using YouTube ads.
7. Create Heartfelt and Compelling Video Ads
Everything is competitive nowadays, and so is converting people to the audience through advertisement. Even with so many features and technical optimization, if your video ad is not compelling and does not generate a want inside your audience, then no amount of ads would work.
YouTube video ads are like regular videos on steroids. They would be watched by more people for sure but would not have any effect on them if the quality is not good. You would notice that there is a high impression rate while the CTR is low.
As a musician, you can place the best part of your music video as ads, or you can talk about your journey and invite them to visit your challenge. You can try something totally new and surprise the audience and your competition.
Whatever you do, make sure that your video ads are top-notch. Investing money to make people see the ad is only half the job done. To complete the other half, invest your time and energy into creating content that compels users to click on the ad and take action.
8. Use Captions on your YouTube Video Ads
It is a good idea to improve the quality of a YouTube video by adding captions to it. Many users like watching a video that has a caption. It makes the whole experience better, and they can easily follow the video.
When it comes to music videos using captions is even more important. You can convert an audience from the USA even if you are an Indian singer. Even though the user doesn't understand what you are saying, they can be captivated by your music. Now, if he can see the lyrics and what your song means in English, it increases the chances of conversion.
You don't need to use captions in the same language that you are singing your song in. Using other languages is also a good strategy, depending on what demographics of users you want to target. Don't underestimate the power of using captions. They can play a huge role in your YouTube ads campaign.
9. Use Call-To-Action Buttons Properly
When you are using In-stream ads, which play at any part of a YouTube video, you need to add a call-to-action button. That is the button you hope users would click, so your content gets promoted.
You can choose the link to any of your YouTube videos, your YouTube channel link, your official website link, or a landing page link even. It is totally up to you to make the best use of the call-to-action button.
The best thing to do would be to test out multiple links for your call-to-action button and see which one gives you a better conversion after the user lands on the destination page. If it's a YouTube channel, the desired action should be subscribing to your channel. If it's a landing page, it could collect the user's email to sell your music or merchandise to the user.
10. Choosing the Right YouTube Ad Formatting
There are many different types of YouTube ads that you can choose from. We will discuss these various types of ad formats in the next section. It is vital that you choose the best type of ad format suitable for your campaign to promote your music.
Not every type of format goes with every type of video. For example, for a video ad that contains your personal story and an offer, it is a good idea to use non-skippable ads. On the other hand, if it is a portion of your primary music video, it makes more sense to use TrueView ads as the user can skip them after 5 seconds if they don't like it, saving you more money.
Knowing the different ad formats YouTube offers is a vital step that you need to cover before using YouTube ads to promote your music videos. Only then you can understand and choose the right ad format to go with the right type of content to promote your music channel.
Paying Youtube Ads and Calculating ROI
As mentioned earlier, there are many different types of YouTube ads, and each of them comes with its own merits and demerits. Before running an ad campaign, you need to be familiar with all the different kinds of paid YouTube ads that you have available at your disposal.
It is also important to know which metrics you need to measure and understand the KPIs you need to keep an eye on while running different kinds of ads on YouTube. We will discuss all the different types of YouTube Ads format and the KPIs you need to track to ensure a hefty ROI.
1. TrueView Ads
TrueViews ad is one of the most common types of YouTube ads. Users prefer it because they are very effective, and you only have to pay when your audience shows an interest in your ads.
The ads that you can skip after they are played for 5 seconds on YouTube are called TrueView ads. They can be used to advertise your music video, behind the scenes, or other promo videos related to your music video.
They have great ROI because you would only be charged if the user watches the ads for more than 30 seconds or if they click and visit your website. If the user chooses to skip your ad after 5 seconds, you won't get charged, which means that you only pay for users who are at least slightly interested in your music video.
KPIs To Look Out For
CTR
CPA
Conversion rate
Views
Device Types
Video Watch Time/ Time spent on websites
Ads watch time
Device types
Locations
2. Non-Skippable Ads
As implied by the name, these are the ads that a user can't skip until they are played in full. They can be a bit annoying, but if you are using a powerful and moving video as your ad, you can get the job done.
The cost is a huge factor to consider if you choose to run these kinds of ads for your YouTube music video. You have to bid to get these ad spaces which means you have to pay more than your competitors to run non-skippable ads.
The bidding starts with a bundle of at least a thousand clicks which means you need to have a significant advertisement budget to run these kinds of ads. They are a good option for big music labels, but they might just be too much for small indie artists.
KPIs To Look Out For
CTR
CPA
Conversion rate
Views
Device Types
Video Watch Time/ Time spent on websites
Ads watch time
Device types
Locations
3. Bumper Ads
Bumper ads are kind of a mix of TrueView ads and Non-skippable ads. They are only 6 seconds long, and you can't skip them. They don't irritate the use as much as other YouTube ads do as they are played at the tail end of the videos.
You have to bid on them for a bundle of at least a thousand clicks and make sure to spend more than your competitor to win the bid. They are not very commonly used by advertisers, but if used for the right music video promotion, they can do wonders even with a small budget.
KPIs To Look Out For
CTR
CPA
Conversion rate
Views
Device Types
Video Watch Time/ Time spent on websites
Ads watch time
Device types
Locations
4. Display Ads
When a user searches for a video on YouTube along with results, some paid banners pop up. These banners are called display ads. You can only use images to get conversion from these kinds of ads.
KPIs To Look Out For
CTR
CPA
Conversion rate
Views
Traffic sources
Device Types
Playlists
Video Watch Time/ Time spent on websites
Ads watch time
Comments
Likes and dislikes
Number of shares
Device types
Locations
5. Overlays
These are similar to display ads, but they pop up at the bottom of a video when it is being played. They don't cause users much irritation, but it is harder to grab the attention of the users using overlay ads.
Overlays come with a call-to-action button that can take users to your website, YouTube channel, or eCommerce store to sell merch products.
KPIs To Look Out For
CTR
CPA
Conversion rate
Views
Traffic sources
Device Types
Playlists
Video Watch Time/ Time spent on websites
Ads watch time
Comments
Likes and dislikes
Number of shares
Device types
Locations
6. Cards/Sponsored Ads
They pop up in the middle of a video, much like overlays, but they get expanded when the user clicks on them. They are not very annoying as compared to other kinds of YouTube advertisements.
KPIs To Look Out For
CTR
CPA
Conversion rate
Views
Traffic sources
Device Types
Playlists
Video Watch Time/ Time spent on websites
Ads watch time
Comments
Likes and dislikes
Number of shares
Device types
Locations
Alternatives to Promote Your Audience on Youtube
There are many other ways to promote your music channel on YouTube other than using paid advertisements. One of the most popular ways is to leverage services that already have the audience that you want for yourself. It is comparatively a safer bet than spending money to run YouTube ads that may or may not bring you results.
One such website that provides the service of promoting your YouTube channel is SongLifty. We have a 3.9/5 star review on TrustPilot. 73% of people described our services as excellent while 7% rated our service as good.
Specifically, this website serves upcoming musicians who need to get engagement on their YouTube channel without breaking the bank. For your YouTube channel promotion, SongLifty provides 2 kinds of services. One of them increases your likes and views, while the other increases your subscriber count. What's amazing is that our starting price is only $4, which is really affordable.
You can also choose to promote your personal brand on Instagram using our services. Our Instagram followers service starts at $5, while our Instagram likes service starts at only $1. Instagram is a great platform for musicians to promote themselves. You can talk about your life, share your story, and journey with your audience using Instagram posts, stories, reels, and videos.
Another great platform that is highly underrated is TikTok. You can promote yourself and your YouTube channel using TikTok. Like Instagram, you can link your YouTube channel in your profile so users can easily go there. SongLifty also has a TikTok Promotion service that you can check out.
Another platform that you must leverage if you are a musician is Facebook. Since you can double your revenue simply by reuploading the same video that you uploaded on YouTube, it would be foolish not to. You need to start a Facebook page and earn money by monetizing your page. You must check out the SongLifty Facebook Promotion services if you are a musician.
After studying the reviews of people sharing their experience of SongLifty on TrustPilot, we have found that we overdeliver to our customers. Many of them expressed how happy they are with the customer service and how we go above and beyond to satisfy our customers.
Wrapping Up
Running video ads for promoting your YouTube Videos is profitable only when you know how to get it done right. We have talked about all the factors that go into running an excellent YouTube Video ad campaign for promoting your music videos.
It is also a good idea to use services like SongLifty if you don't want to go through the hassle of learning everything about YouTube ads from A-Z and risk losing your hard-earned money. We provide a good value for your money and help you grow your channel quickly.
If you know a musician you might be benefited from reading this article, please feel free to share it with them.
If you have any questions or would like to add something, don't hesitate to ask us down in the comments section.