It is understandable to assume that the cover of a Spotify playlist is not that important. The users are supposed to be on the app for the music and shouldn't be bothered by the visuals, right? Wrong.
In marketing, the goal is to get the customer's attention, the listener in this case. This means appealing to their senses and desires through any channel: audio, visual, etc.
Many Spotify users have talked about how the cover drove them to check out songs and playlists due to the artistic nature of its design. Apart from making the playlist stand out among many others when searching, it can also influence the mood a listener is going for.
Your playlist cover image is the first thing people will see when they come across your playlist on Spotify. It's a powerful visual tool that can help promote your music, attract new listeners, and establish your brand identity. A well-designed playlist cover can communicate the mood, genre, and style of your music in a single glance, making it an essential part of your music promotion strategy
This article will guide you with 5 of the best tips for creating aesthetic Spotify playlist covers to give your playlist gain as many followers as possible.
5 Tips to Create Aesthetic Spotify Playlist Covers
The following steps will explore various ways of making aesthetic Spotify playlist covers that will capture the attention of every user that sees them.
1. Recommended Size for Spotify Playlist Covers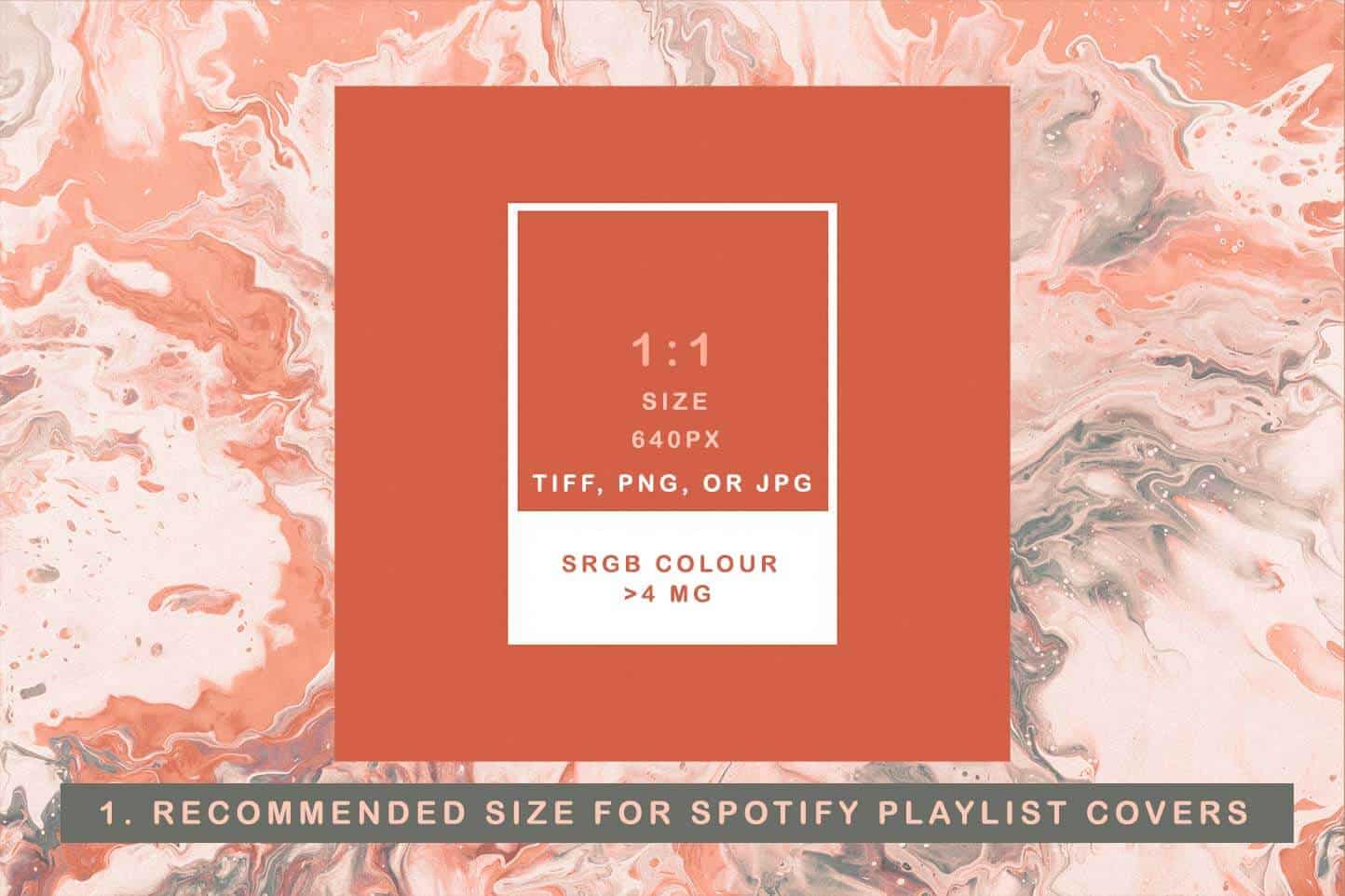 The size of your Spotify Playlist Cover is essential in maintaining a consistent display on screens of all sizes.
According to Spotify, the standard cover for a playlist should have the following features:
TIFF, PNG, or JPG file format using lossless encoding. This ensures that the image can get compressed and reconstructed in many different ways losing no part of its data.
The dimensions should be at least 640 pixels by 640 pixels
You should use the highest resolution available when creating it
The ratio of the width of the image to its height should be 1:1
The image should be encoded with an sRGB color space, have 24 bits per pixel, and have its color profiles applied directly
The file size should be less than 4 megabytes
Spotify also recommends that you don't upscale the images you use or embed color profile and orientation metadata since the app doesn't support it.
2. Brainstorm for the Spotify Playlist Covers Art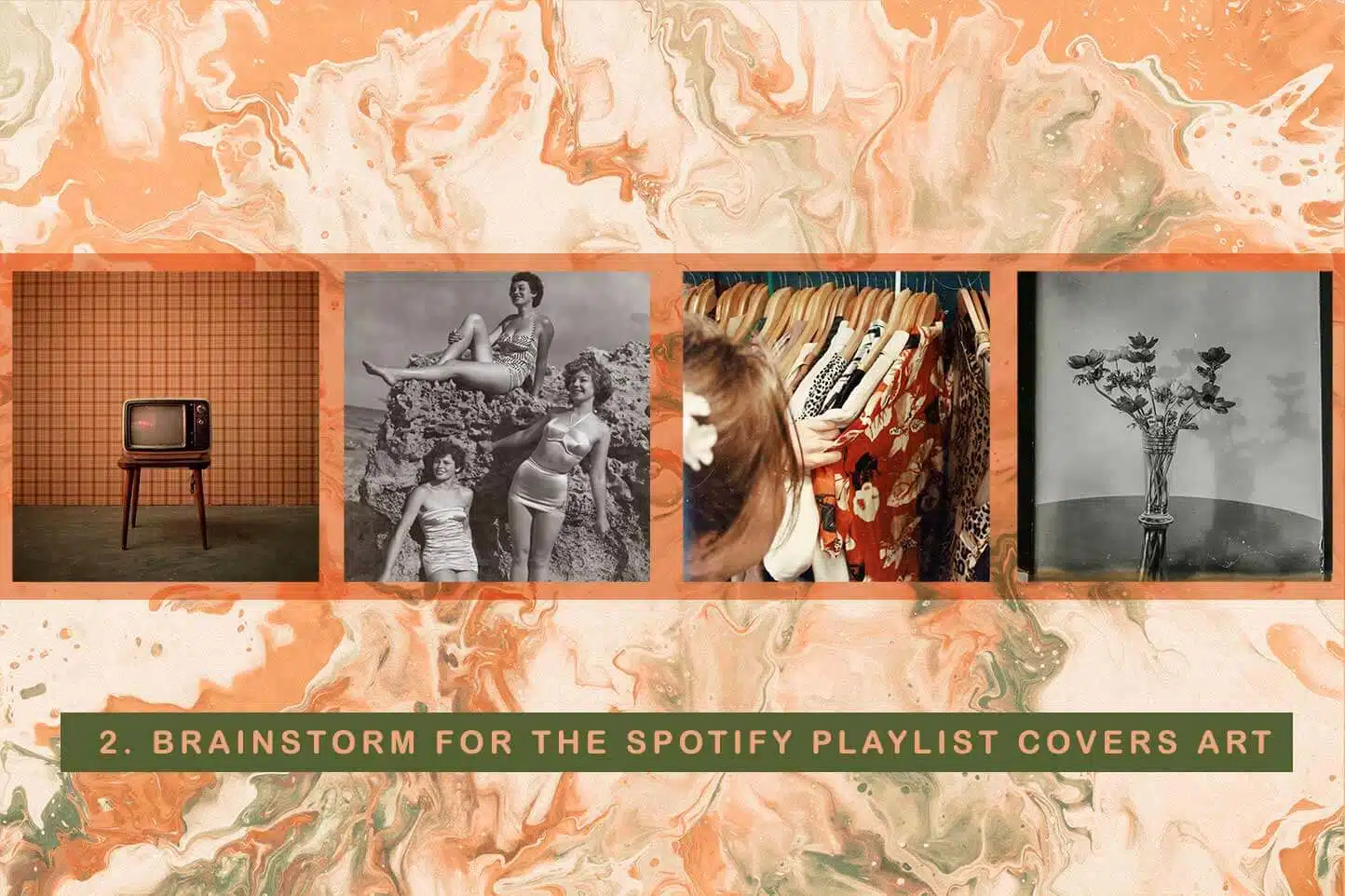 You can light a fire by raising the temperature of anything past its ignition point, but the easiest method is by using a spark. This is how to go about brainstorming when trying to create anything, and this includes creating aesthetic Spotify Playlist covers.
When choosing an image for your playlist cover, consider the mood and genre of your music. A visual that matches the vibe of your playlist can help convey the style and atmosphere of your music. Use high-quality images that are eye-catching and unique. When selecting fonts, think about the personality of your music. Bold, sans-serif fonts can work well for upbeat, energetic music, while elegant, script fonts can convey a more romantic or sophisticated mood.
One way to gain inspiration for your playlist cover is by browsing through popular playlists. Pay attention to their cover designs, and consider how you can replicate or improve upon them. You can also check out other music streaming platforms and look for design inspiration. For example, the Billboard charts often feature album covers that are worth emulating.
The examples will provide you with the needed inspiration to make your cover.
3. Considerations for the Spotify Playlist Font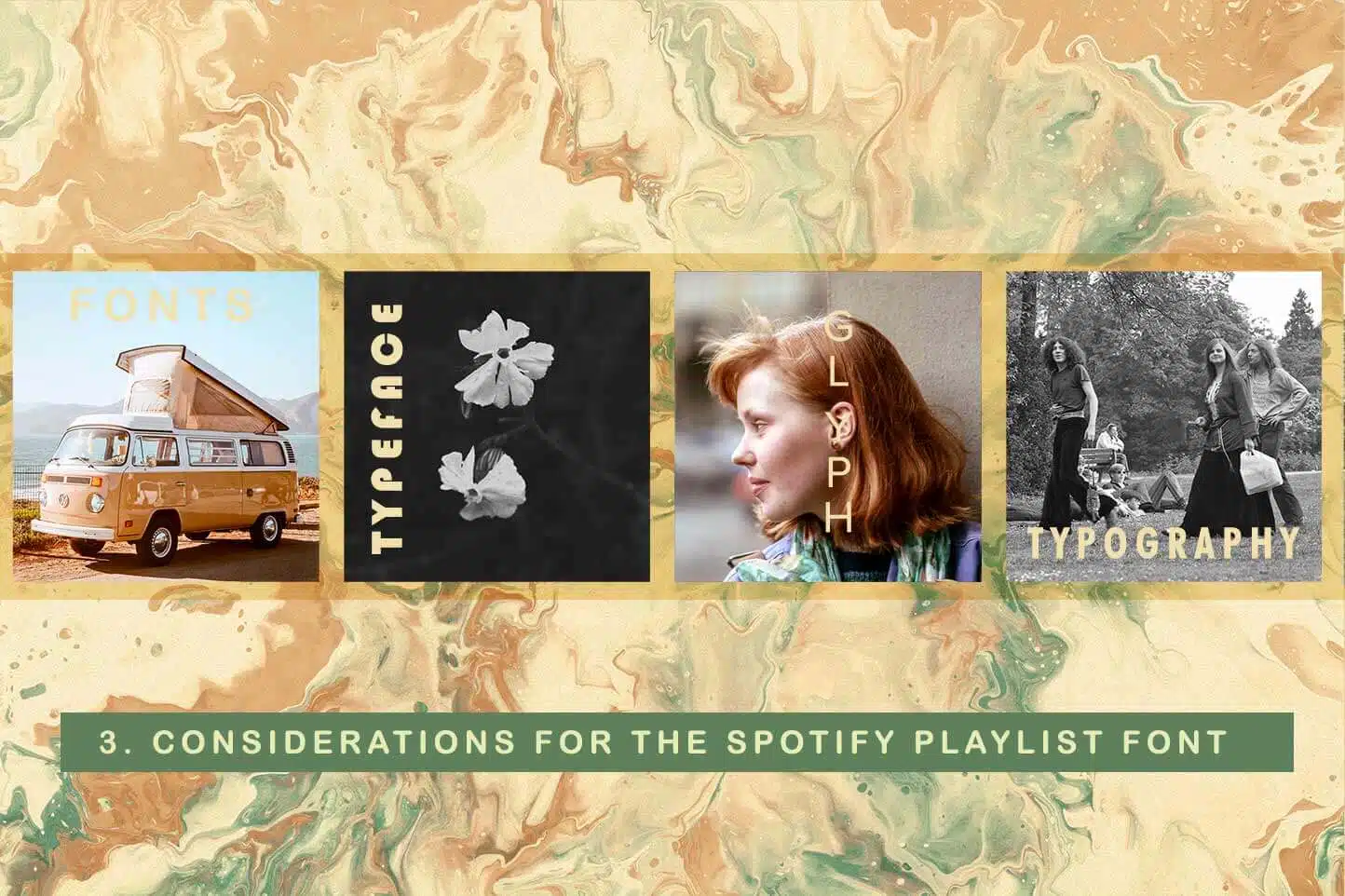 Official playlists are widely popular among its users. The playlist's covers contribute to their appeal to listeners, the image used, the chosen fonts, etc. The font choice can impact the overall design of your playlist cover. The font you choose should be easy to read and complement the other design elements.
Spotify uses the Circular Std font in its official playlists, which has become associated with the app. You can use this font to create a consistent look for your playlist cover, or you can experiment with other fonts to find one that suits your design. When choosing a font, make sure it's legible and matches the mood you're trying to convey
Spotify uses the Circular Std font in its official playlists and Proxima Nova on other platform parts. You can use this font to create a consistent look for your playlist cover, or you can experiment with other fonts to find one that suits your design. When choosing a font, make sure it's legible and matches the mood you're trying to convey.
You can experiment by changing fonts and observing how each affects the rate at which you gain followers or listeners. This should help you make the right choice.
You could also sample the fonts used by most popular playlists to see which one works and which one doesn't.
4. Using Canva to Create the Cover Art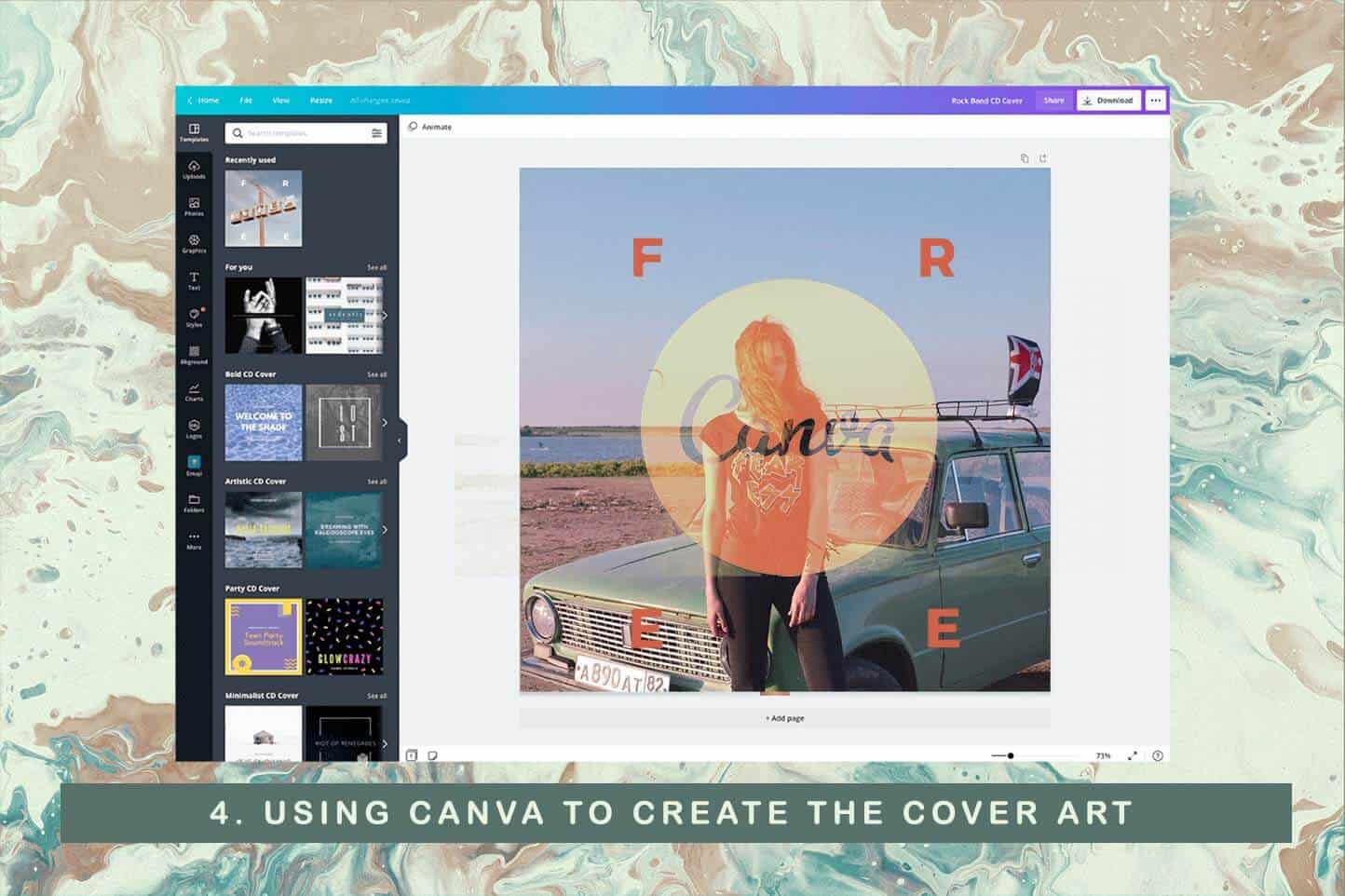 Before anything, we should first acknowledge that nothing beats paying a professional graphic designer to create a cover that captures your playlist's essence.
There are many tools and resources available to help you create professional-looking playlist covers, even if you have little or no design experience. Adobe Spark and PicMonkey are popular online tools that offer templates and design elements for creating unique visuals.
Adobe Photoshop, Adobe Illustrator, CorelDRAW, etc., the best one you can choose provides a professional look, is not expensive, and is simple enough to use. Canva is a great tool that embodies all these requirements.
Canva is a fabulous online design tool that inspires the form of thousands of professional templates, images, and content. It also has tools that promote easy collaboration between members of a team. Lastly, Canva makes it easier to share your work.
To show how easy it is to use Canva, the steps below will guide you through creating aesthetic Spotify playlist covers easily.
Visit the website or open up the application to start using Canva.
Enter the search for "Album Covers" to find the many templates available to get you off quickly. You can be more specific with your search by using keywords that best describe the idea you're going for. Select one and start your design process.
You are now presented with tons of elements to help you customize the template; you can take some things out or add on other designs while at it. You can change fonts, upload your images and add your brand items to the template. You can also change the color scheme and include background music.
After establishing a design, you should save it in the desired format. We recommend a JPEG or PNG high-resolution format.
To prevent copyright issues, you should always use images that you own. If you want to use any you don't own, you should ensure that you have permission from the owner. Canva's library has over a million-premium graphics, illustrations, and images you can use for as little as $1.
5. How Do You Change Spotify Playlist Covers?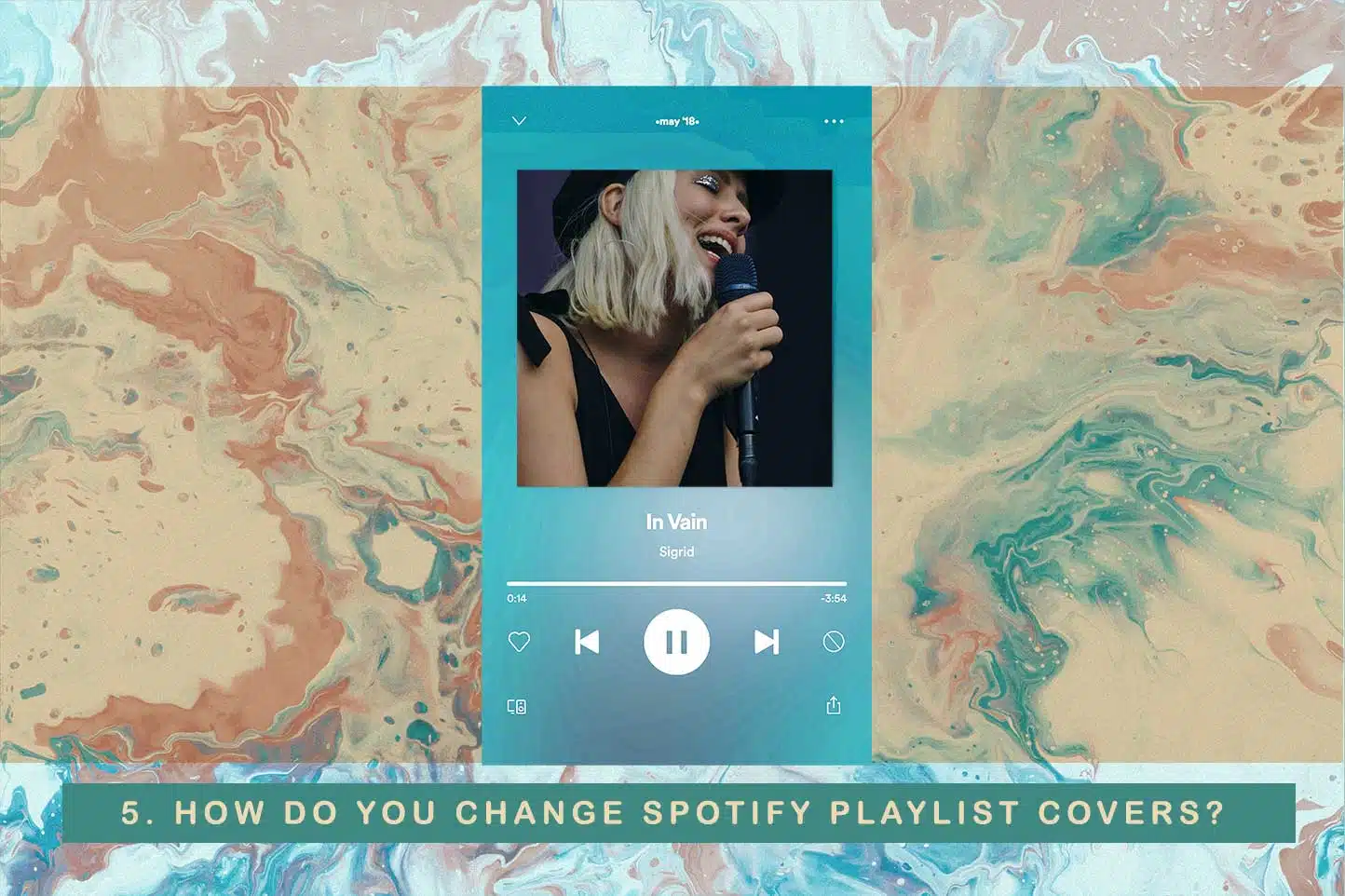 The default setting for your playlist cover is a combination of the album photos for the first four songs in the list. This is mostly not visually appealing and doesn't help your playlist stand out.
The best thing to do is to change it by uploading a cover you have designed and created to represent your playlist better. Since we have already gone through creating the cover, this section will look at how to upload it to your playlist.
There are two ways to change the cover image of your Spotify playlist: on desktop and mobile devices.
Launch the desktop app ad sign in. Select your playlist from the panel on the left side of the screen. If you click on the present cover photo, the menu to upload a new one opens up. Choose the image you want, add a description, and click save to have it uploaded.
After launching the app on your mobile device, choose "Your Library" to open your playlists. Choose one playlist and tap on the three vertical dots on the upper-right side to open up the menu. Select "Edit playlist" and "change image" next. You can now choose the image you want to use as a cover and tap "save".
Wrapping Up
Incorporating your branding into your playlist cover can help establish your identity as an artist or label. Use colors, fonts, and logos that match your brand guidelines. This will create consistency across all of your music promotion materials, making it easier for fans to recognize and remember your brand. Consider adding your artist name or logo to the cover image, or using a consistent color scheme that matches your album artwork or website design
Now that you know how to create aesthetic Spotify Playlist covers, you can visit the Songlifty website to discover more ways to carry out other Spotify promotion activities for your career as a musician.
The website also provides tips on creating YouTube banners, ideas for your YouTube channel, inspiration for your YouTube channel background, and general promotion techniques for your YouTube channel.