Once in a while, music evolves and produces new music industry trends influenced by the changing preferences of the audience and artists. Hip-Hop and Rap attained the status of being the world's most popular genre several years ago.
Hip-Hop and Rock music had massive influence during the first half of the decade since they were overwhelmingly mainstream. What are the music industry trends like today? A big question for all the enthusiastic music creators who want to make their name stand out in the world.
Music companies continue to capture an intimate look at the music-making process and provide insights into artist perceptions as the number of concerts shrinks.
According to industry experts, the music industry is in a good place at the start of the year 2022. The reason is following ten music industry trends for 2022 that every artist and music lover should watch.
Best 10 Music Industry Trends 2022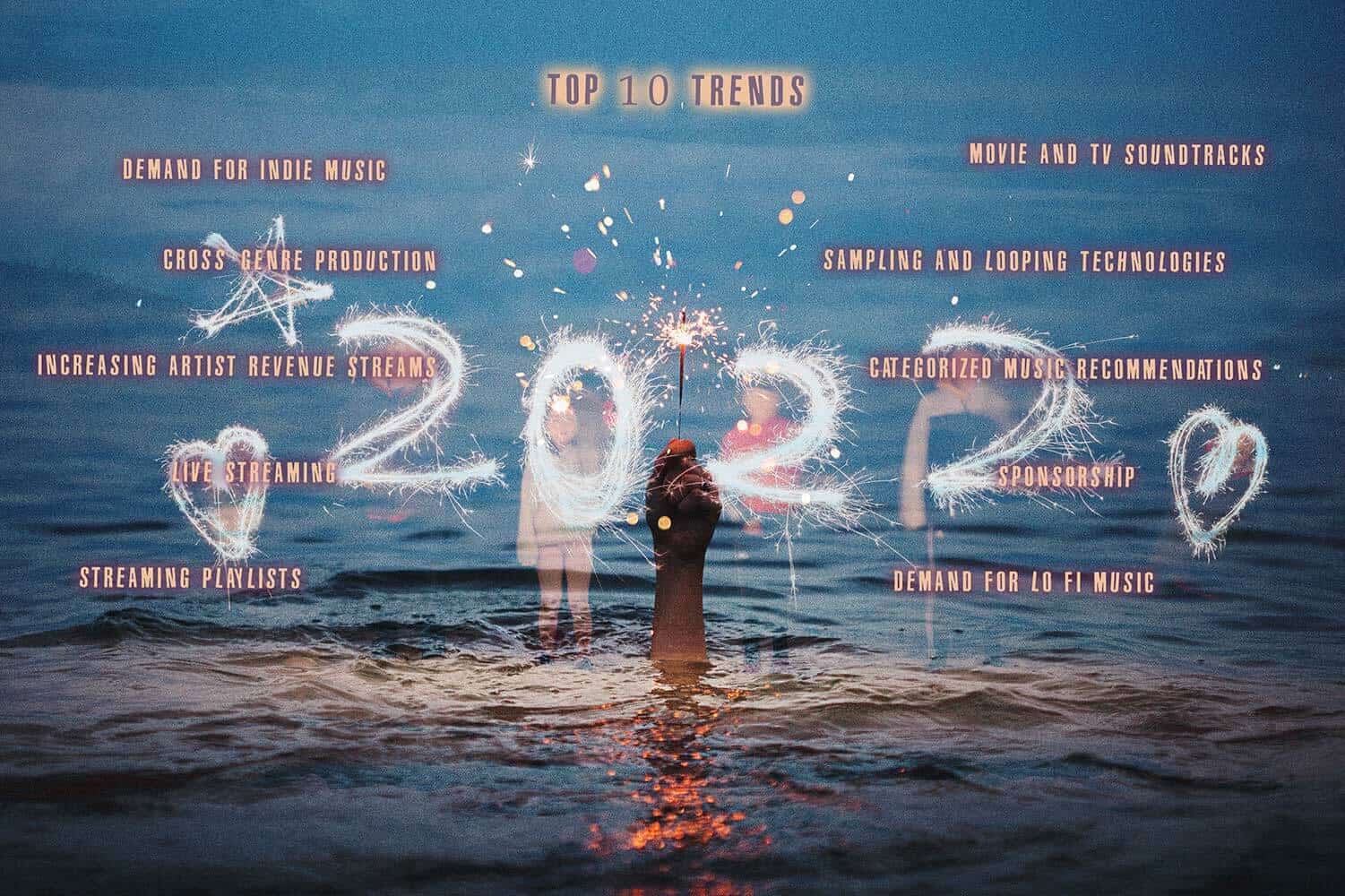 With 2022 here, we've learned one thing about the future of music in the digital era: nothing is for sure.
Live music and concert tours have been put on hold by the Covid-19 pandemic, so musicians have had to get creative in bringing new music to their fans.
We now have a glimpse at some of the trends that will shape the future of music, from social media live streams to genre crossovers, thanks to the slowdown of the music industry trends in 2020 and 2021.
1- Demand for Indie Music
There is one great thing about the music industry trends: someone with a musical gift, persistence, dedication, and commitment can leave a lasting impact on the world.
In 2019, Statista reported more than 1,500 independent musicians were working in the United States alone. Compared with 2018, their number increased by 21%, from 1,290. The magazine reported that indie artists would generate at least $8 billion in 2022.
Seeing as the pandemic is showing no signs of stopping, it is clear that independent artists will be able to show off their talents.
The increasingly competitive landscape of the music business makes it more difficult for independent musicians. On the other hand, in other areas, they're better able to deliver what people want today: curated playlists, new, exciting sounds, and discoveries of under-recognized artists.
Listeners feel like they are part of the discovery process when stumbling upon a new star, which has also helped shape the global music market.
2- Cross-Genre Production
The music consumer of today expects novelty from the artists they enjoy. Katty Perry, Michael Bolton, and the Bee Gees are all hot favorites. The artists in this list can perform in more than one genre of music, among a growing number of musicians.
Another song that was a massive hit in 2019 is Lil Nas X's Old Town Road, a combination of hip-hop and country music.
Artists will have to expand their musical skills beyond their genre comfort zones to meet the growing demand for diversity. Cutting it short, the mixture of different genres is the latest music industry trend that everyone is grooving over.
3- Increasing Artist Revenue Streams
Due to the ongoing pandemic, artists and labels were forced to find other ways to generate income. The new normal remains a no-no for live performances and concerts.
Pundits say alternative revenue streams will separate the true music entrepreneur from the one-hit-wonder.
The switch by Taylor Swift from her pop-country sound to something more diversified is an excellent example. Now, Swift's albums feature bonus tracks and brand merchandise. The music industry trends 2021 has made it evident that the new way to get your music to reach your audience is through several online streams.
For music creators, the industry prediction for 2022 is quite clear. The more you show your presence on online platforms such as YouTube, Instagram, and TikTok, the more likely you will reach your music goal. It's getting more exciting for people worldwide as the latest releases are more likely to reach people conveniently. The convenient way is generally referred to as "one-touch."
4- Movie and TV Soundtrack Breakout Artists
Have you ever wondered who's playing that song while watching an original Netflix movie or show?
Creating playlists and casting mainstream and indie artists that are in sync with the show's scenes and have a sound that resonates with audiences is done by an exceptional team.
With music that catches the attention or conjures something special, old songs can be brought back to life and become mainstream again, or new artists can be thrust into the spotlight as they reach a tipping point in their careers. Lizzo's "Truth Hurts" became a staple of Spotify's playlists and radio airwaves after being featured in the Netflix film Someone Great two years ago.
5- High-Tech Algorithms of Creating Music Playlists
Music genres are traditionally used to create a playlist. A music streaming service uses algorithms to curate music tailored to people's quirks, moods, cultural preferences, and lifestyles.
Spotify's POLLEN playlist perfectly exemplifies this unconventional method of play-listing. This genre-less playlist spans nine hours and 156 songs, focusing on setting the mood than defining it.
Independent artists and lesser-known music genres can gain exposure through this platform.
6- Samplers Game Strong
Music creators in 2021 also were able to produce music more easily with the advent of more advanced sampling technologies.
For instance, UJAM's Beatmaker 2.0 gives producers the power to manage MIDI loops on demand. Music producers are restricted from creating meaningful music because traditional samplers are flexible.
In the coming years, sampling and looping technologies will offer artists and music creators endless possibilities. In the end, it will all be for the ultimate enjoyment of the music consumer.
7- Categorized Music Recommendations
Previously, retrieving and playing a favorite song required excellent memory. Today, consumers only need to ask their smartphones for a piece, and the device's artificial intelligence will automatically search and play it.
Music recommendations are made in a flash by Amazon's Alexa and other artificial intelligence voice assistants. The algorithm recommends music based on one's mood and the time of day. This algorithm may also recommend what music consumers love to listen to.
8- Advanced Music Companies
Some organizations are reorienting their business priorities in the music industry while others listen to their customers.
Leo Fender of Fender, for example, emphasized more than anything else the importance of listening and understanding the company's audience. As part of Fender's digital transformation, Fender Play is now available on Spotify, and additional customer-centric services are in the works.
The future of the music industry is bright for everyone involved, from musical instrument manufacturers to musicians, small music groups, and more.
9- LiveStreaming in the Trend
Today, musicians and other performers can perform in the comfort of their homes with the increase in the availability and ease of use of audio interfaces and other advanced production equipment.
Their gigs and performances can be streamed on various social media platforms, allowing them to reach their fans no matter where they are.
Billboard reports that the digital world is becoming a haven for self-qualifying artists and musical institutions to showcase their talents. RIAA revealed that 83% – worth $10.1 billion – of music revenues in 2020 came from streaming services, an increase of 13.4% from 2019.
Live streaming takes on new meaning as artists wow a weary world via Facebook, Twitter, YouTube, and other social media platforms. This trend is only expected to grow.
10- Lo-Fi In Demand
Before the pandemic, TikTok and Generation Z all arrived together simultaneously. These music genres were not visible nor included in any music discussion.
There was a rising interest in chill and lo-fi music during quarantine when TikTok was the most popular platform.
It is noticeable that there are a lot of videos on the podium with educational or aesthetic content records in the background along with Lo-Fi & Chill Music to bring awareness to such genres and encourage the listener to explore them. TikTok's main audience is Generation Z, so Lofi & Chill music aims at Generation Z.
The latest music industry trend that everyone is dying for is the Lo-Fi music genre. So, if you want to make your music stand out, Lo-Fi is what you can go for! In addition, you can also refer to these music industry trends that will change your approach towards the music industry.
Wrapping Up
The music industry trends keep changing with every passing day. However, since the pandemic has made everything static, it is highly possible to use this time and make your portfolio grow. You can stream your music on various streaming applications. However, you need to have a substantial number of followers before working on your content.
For this, we've got Songlifty for you. Songlifty is a platform providing you with reliable and excellent ways to promote your song on Spotify and YouTube. So, what's the wait for?
Grab this fantastic opportunity and let the world know that your music stands out among the crowd. Good luck!