Daniel Ek and Martin Lorentzon, two Swedish business partners, founded Spotify in 2006. With over 70 million songs and 365 monthly active users, Spotify is the top audio streaming service in the United States (and beyond) despite only being available since July 2011.
With Spotify leading the way in user experience and accessibility, the streaming platform has been a hit for users and creators alike. The platform has benefited me both as an artist and as a listener.
Spotify makes things exciting for the users and the music creators with each passing day. Spotify allows brands to feature different types of Spotify ads.
Want to know more about Spotify advertising costs and Spotify ads?
Evolution of Spotify Advertising Cost
Although Spotify has been touting the potential of its two-sided marketplace strategy for years, the company is just now starting to take action on that strategy.
Spotify Ads Marquee Feature
With Spotify's ads Marquee feature, artists can promote their music, sponsor recommendations, and notify listeners when a new album is released. The minimum spending amount for the marquee is $5,000.
Ads to promote music on Spotify have become a new feature that's making people even more excited.
Furthermore, this type (Spotify's Marquee feature) of advertising revenue would have higher margins than the current ad-supported tier. Spotify pays the associated per-stream royalties for free users listening to ad-supported music and then monetizes that engagement by displaying ads.
There are no costs associated with these ads, so Spotify can bring in advertising revenue before royalties kick in.
There are various forms of Spotify ads being streamed these days. Some of the options are listed below:
In users' playlists, audio ads play between songs, which is the new evolution in Spotify ads.
You can also provide a clickable link to send users to an appropriate landing page.
Video ads on audio streaming platforms may seem counterintuitive, but you can use them in various ways, such as sponsored sessions, video takeovers, or branded moments.
How Much Does Spotify Advertising Cost?
Before we learn more about Spotify advertising, let us get an idea of how much Spotify Advertising Costs.
The cost of a campaign is determined by the length of the campaign, the ad formats utilized, your country, the target audience, and competition from other advertisers. According to the company's website, the minimum fee to get started for those using Spotify's self-serve platform, Ad Studio, is a mere $250. Spotify offers tailored options that correspond with specific advertising aims for companies with larger budgets.
However, the price of Spotify advertising cost can vary accordingly.
Types of Spotify Advertising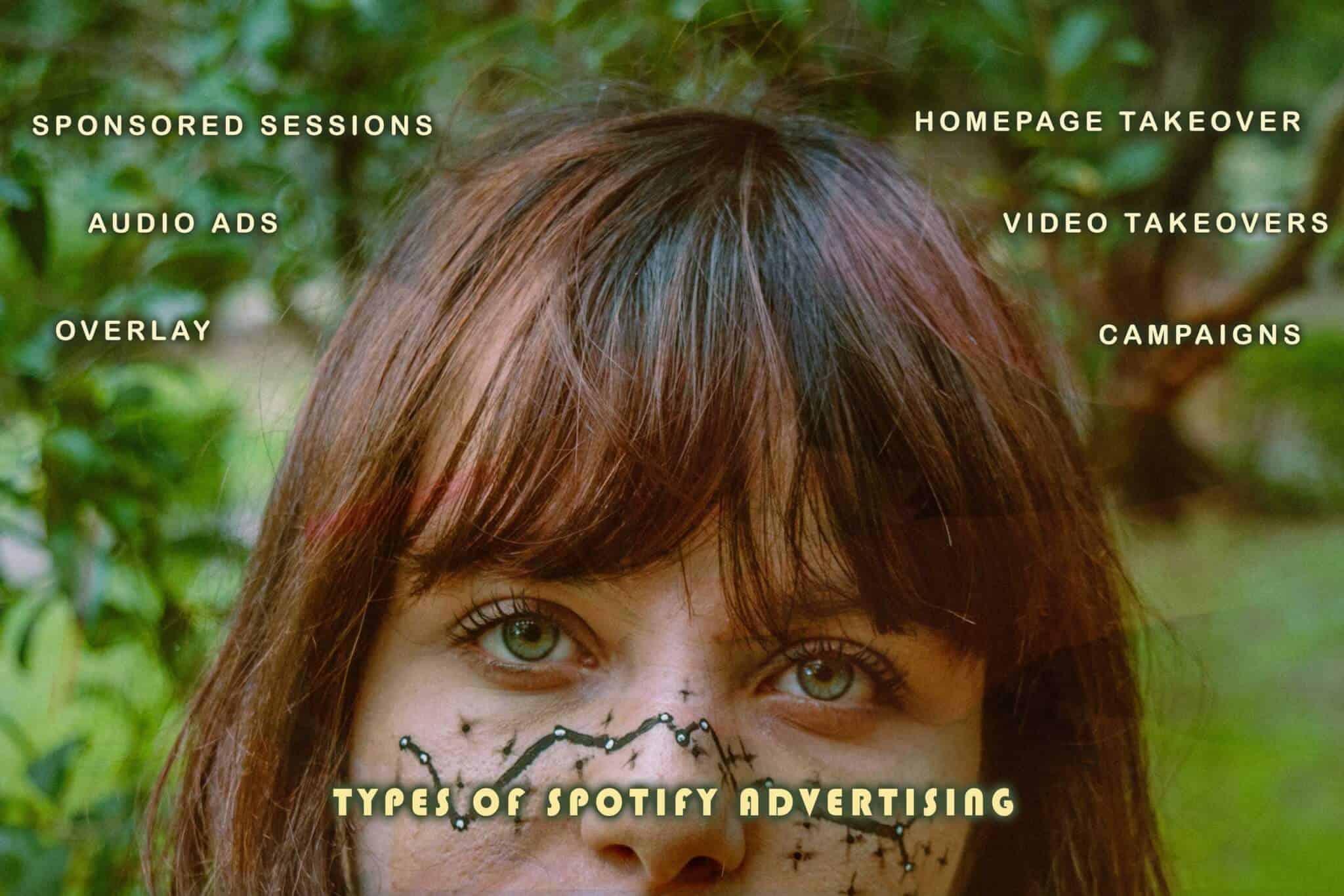 Spotify offers a range of advertising formats in addition to audio ads, which may seem the most logical for a streaming platform. Among them are:
1- Audio Ads
As part of Spotify's advertising network, Spotify delivers audio ads. With this experience, streamers can reach their audiences anywhere and everywhere they listen to Spotify: on the street, while driving, before dinner, at work, and everywhere else people listen to the service.
It includes both the sound aspect of the application and the option to display a clickable image in the space where a cover image of an artist would usually be displayed with a call to action to direct listeners to your website.
The advertising time limit for audio files is 30 seconds.
2- Video
There are two ways for brands to display videos on Spotify:
Sponsored Sessions
Video Takeovers.
In exchange for watching your video, sponsored sessions give free users 30 minutes of uninterrupted listening. The Sponsored Sessions will only appear if the app is opened at the beginning of a mobile session. After viewing your Spotify advertisement, an ongoing message invites users to continue interacting with your brand and start 30 minutes of uninterrupted listening.
The sponsored sessions for advertisers have a maximum time limit of 30 seconds and can be accessed on tablets and mobile.
3- Overlay
Once a user returns to the Spotify app after leaving, this message appears. By doing so, the message has the greatest impact and visibility possible.
4- Homepage Takeover
The streamer can use Homepage takeover to make your Spotify ad appear on Spotify's page for almost 24 hours. Your Spotify ad will be clickable and appear on the desktop screen when listeners listen to music.
Best Way to Use Spotify Ad Campaign
Here we have discussed the top practices for advertising on Spotify to ensure your brand's success.
According to a recent study by Spotify, listeners are more worried about the message than the duration of a creative. Therefore it's vital to have great messaging from the outset. During your advertising, be clear, concise, and conversational so that listeners quickly get the point you're attempting to communicate.
Because Spotify ads are often short, incorporating a strong CTA allows users to quickly and swiftly take the desired action. Don't forget to include a clear call to action in your Spotify ad!
Spotify Advertising Cost Optimization Guide: Higher ROI at a Lower Cost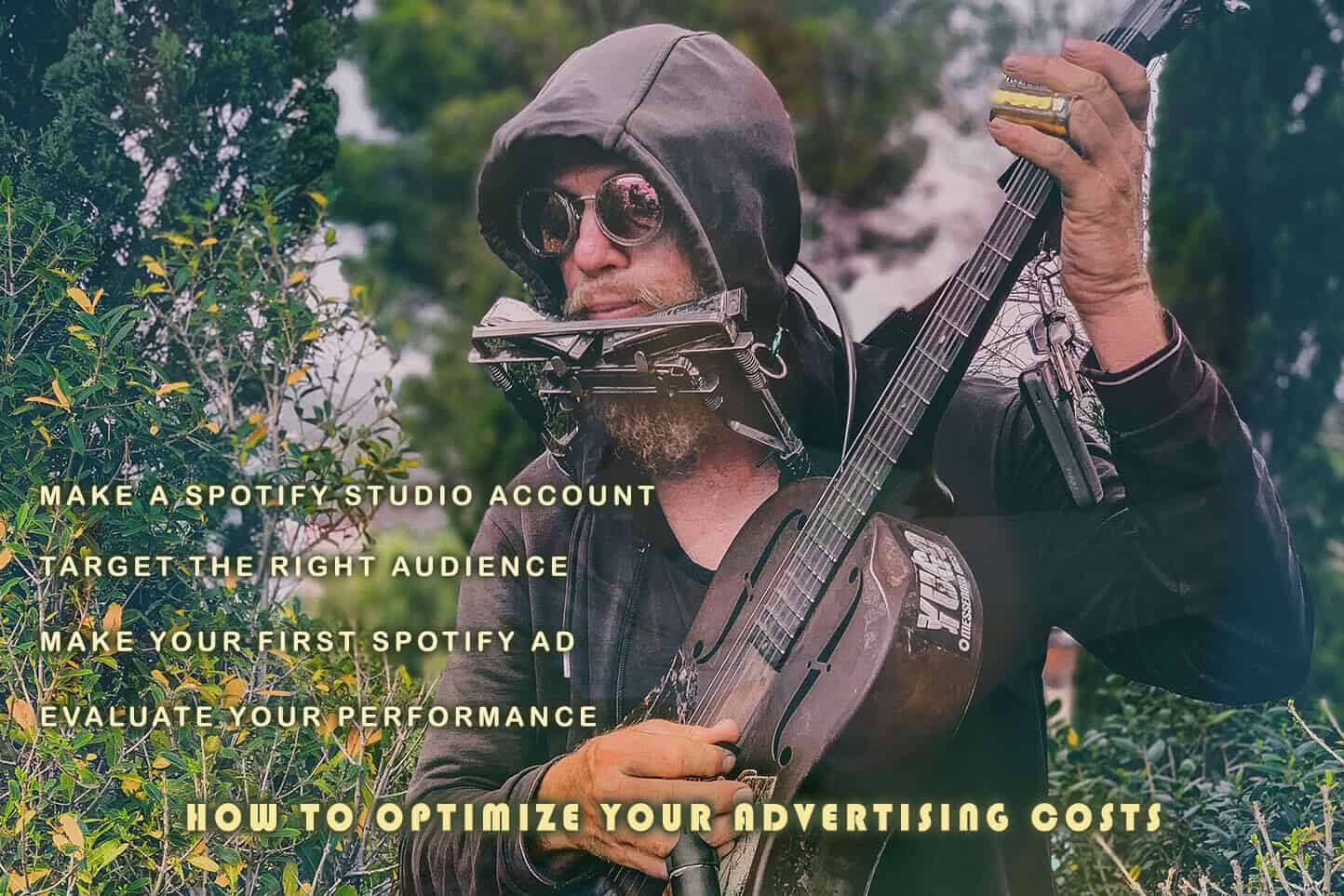 To get Spotify advertising going at its best, you need to know the basic knowledge of how you can get your Spotify Cost-optimized. Furthermore, you should be aware of how much Spotify advertising costs.
Here is a simple step-by-step guide to Spotify advertising cost optimization. Let's get a higher ROI at a lower cost.
Step 1: Make a Spotify Studio Account
Setting up a Studio account on Spotify is the first step to lead you to post ads on Spotify. By setting up a free studio account on Spotify, you'll be able to:
Build your ad campaigns on the Spotify platform.
Get an analysis of your Spotify ad engagement.
Measure your ad's performance and traffic analysis.
Step 2: Do It For The Audience
With Spotify Studio Account, you can target the right audience for your Spotify advertising campaign. Remember, the goal is to reach the right people. Spotify studio account will let your ad reach people who would increase your ROI eventually.
Step 3: Make Your First Spotify Ad
As we previously discussed, you may experiment with various ad formats within Spotify's Ad Studio. You can use this tool to design ads tailored to your campaign's goals.
Ad Studio can assist you every step of the way, whether you're creating video commercials, podcast ads, or audio ads. You may design an ad from scratch in Ad Studio by using their music collection, including licensed tracks, voiceover actors, etc.
Step 4: Evaluate Your Performance
It's vital to track the performance of your advertising once they've gone live. Fortunately, Spotify Ad Studio makes the procedure simple. You'll have real-time reporting on ad delivery, performance, and audience metrics within the platform to see what's working and what may be improved.
Wrapping Up
We've covered everything from Spotify's overall benefits to different ad kinds, but how can you ensure you adhere to general advertising best practices?
However, optimizing the Spotify ads campaign is vital for a streamer. If you don't know how to make the most of Spotify ads, you're doing it wrong.
To ensure that you have the most streamed Spotify account, head over to Songlifty. No campaign can prove to be as fruitful as Songlifty's promotional services are. They offer a wide range of promotional packages that Spotify streamers can purchase at an affordable rate.
Songlifty is one of the most reliable promotion platforms. So, why are you still here? Go to Spotify promotion services to get what you've been looking for.