Unlike listeners, Spotify followers don't just boost your streaming numbers after coming across your song by recommendation or chance. How to get followers on Spotify can make your business know more about the musician, what you have worked on already, and songs you intend to release in the future.
There are many ways to promote your songs on Spotify: getting them on playlists, adding lyrics, taking advantage of social media channels, Spotify ads, etc. Although these may help make your songs popular, they do not necessarily help you gain the followers you require if you are not intentional about it.
In this article, we will thus focus on providing you with the necessary tips on how to get followers on Spotify to boost your music career.
How to Get Followers on Spotify?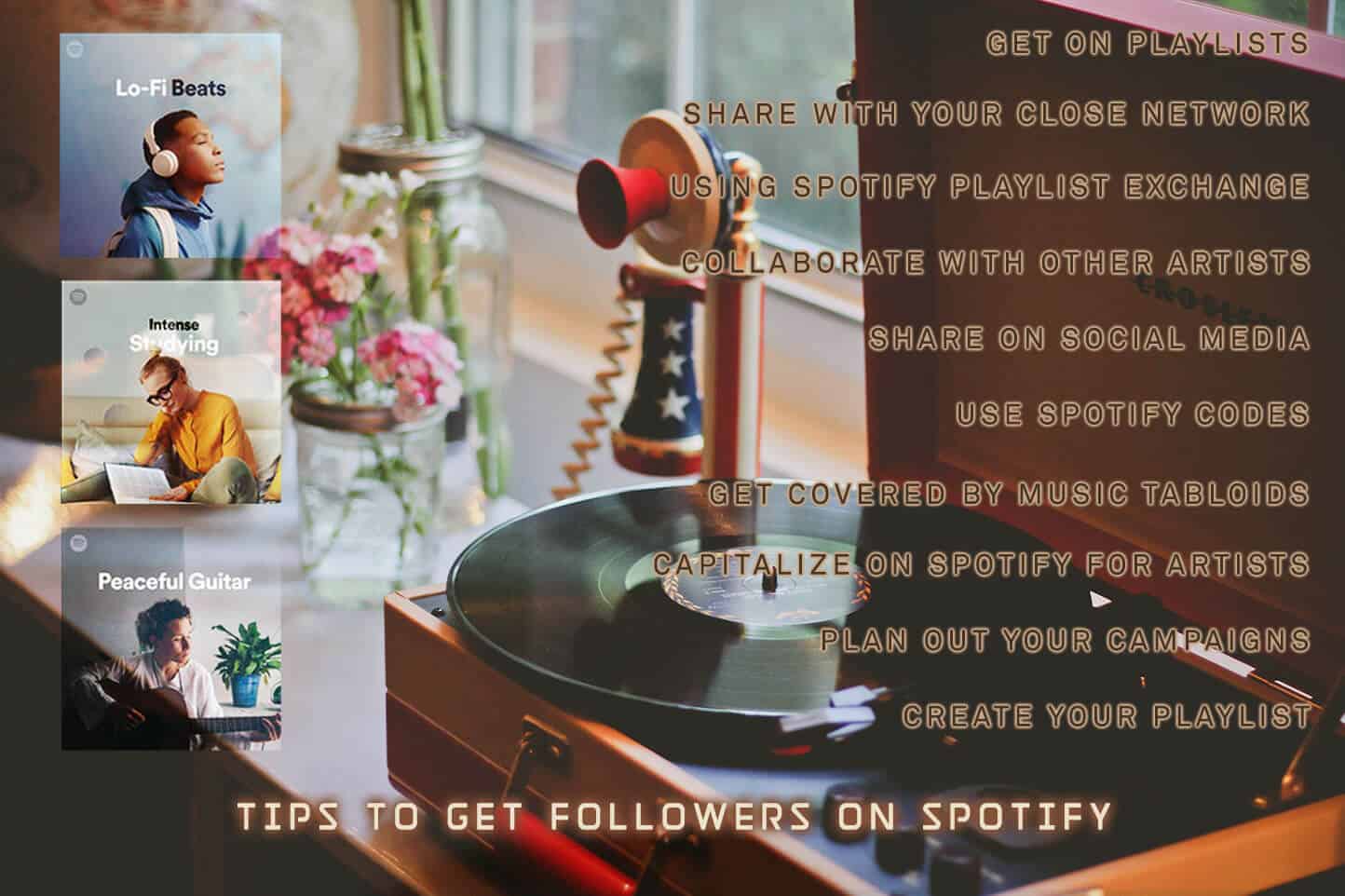 The steps below explore various ways that can help you how to get followers on Spotify.
Setting up the perfect Spotify campaign depends massively on planning.
Over the years, brands such as PepsiMax, Jose Cuervo, and Chuze Fitness have achieved overwhelming success with Spotify campaigns because of the amount of planning they have had to put into them.
Planning your Spotify campaign gives you a sense of direction and provides you with metrics you can use to measure your progress over a given period.
In this situation, the goal is already known, i.e.to, to gain more followers for your artist profile. Therefore, the next step will be to set the target number of followers you seek to add to your current followers and the niche you want them to come from.
Try to explore the various channels you can use to gain traction on Spotify and outside of it. Plan out your different campaign strategies on these channels and how you will combine them to achieve your set goal.
With your plans and execution strategies in place, your final step will be to assess your costs to know how everything will fit into your current budget. Many brilliant ideas have ended up as just ideas due to a wrong assessment of how much financial support they required. You would want to avoid ending up in such a ditch yourself.
The many dimensions of digital campaigns increase the likelihood for you to fail while executing them. Without appropriate planning, you may even be successful in achieving results, but not the kind you were looking forward to.
Share with your close network
As stated earlier, followers are considered more critical than listeners because of their investment in the artists' careers they follow.
The personal network of every artist represents their earliest followers. These people are always ready to provide you with the necessary support in your music career and personal life without requiring anything.
Therefore, you must share your songs with these people as soon as you release them. This, in its way, acknowledges their efforts and spurs them on to dedicate more of their time and resources to support you even more.
Therefore, the individuals in your network will try to get people within their other networks to appreciate and support your music. If nothing at all, they will try to get the other people to follow you on Spotify as they do.
This whole activity creates a chain reaction of sharing within networks so that your Spotify profile will end up reaching a much wider audience than imagined.
Spotify playlists play a significant role in helping you get your music in front of the millions of users on the platform. The more people encounter your music, the higher the probability of gaining a follower among the listeners.
There are three types of Spotify playlists: user-curated or independent playlists, official Spotify editorial playlists, and algorithmic playlists customized for each user according to their activities on the app.
As a musician, you should aim at getting on these playlists, especially the ones officially curated by Spotify's music experts.
Apart from the algorithmic playlists, you'll only get on the other ones by submitting your song to the playlist's curators.
You need to submit your song to the curators before it is released for the Spotify editorial playlist, increasing your chances of getting on the list.
Curators receive hundreds of submissions every day. This means that they usually need some time to properly assess all the submissions to enable them to select those that will make it onto the editorial playlist.
The dynamics are a bit different for independent playlists. You can submit your music to the playlist curator on the platform or through other avenues like social media and email.
Getting on a Spotify playlist and gaining followers is an unending cycle. Making it onto a playlist helps you gain more followers for your artist profile. The more followers you earn, the more likely it is for Spotify's algorithm to take notice of your profile. Getting on the algorithmic playlist again leads to more followers for your profile, repeating the whole cycle.
Capitalize on Spotify for Artists
This may not look like a significant step when trying to gain followers, but claiming your Spotify artist profile helps you gain access to features and resources that can contribute massively to that goal.
Spotify for artists presents you with data and amazing visualizations about your audience and your songs to help you with analytics. This provides insights such as users who are more likely to listen to your music or follow your profile. You can take advantage of this information to increase your profile's follower count and your monthly streams on the platform.
Spotify for artists means you get to add a follow button to the landing page of your profile, create a playlist you can be part of through Spotify for Developers, and gain free access to Spotify's branding for your marketing activities.
All these contribute significantly to the efforts to help increase the number of followers on your Spotify profile.
It is a dream for a musician to have their song featured on any official Spotify playlist. These reach millions of users on the platform, providing an artist on it with a lot of exposure to set their careers rolling in the right direction.
Just as the official playlists are of great importance to any musician, some independently curated playlists carry just as much reach.
Curators like Strange Fruits, LoudKult, Lofi Girl, and many others have playlists that reach millions of users on Spotify.
Getting into any of these can be difficult and frustrating. That is why we encourage you to focus on creating one that's just as successful instead.
Imagine that you owned a playlist that had over 500,000 followers. This would give you the power to plug in your songs directly to people without going through the hustle and tussle of submission and approval from another person.
Also, it is easier to get people to follow a playlist than following your profile. People will follow your playlist without thinking twice if it includes songs from artists they are already loyal to.
After they follow your playlist, the strategy will be to get them familiar with your songs as you mix them with their favorites on your playlist. With time, your next move should focus on gradually converting them from listeners to followers.
Using Spotify Playlist Exchange
We can't emphasize the importance of playlists in increasing the number of listeners for your songs and followers for your profile.
This tip discusses how you can use Spotify playlist exchange to increase the number of followers on your profile.
To grow the number of followers for your Spotify playlist, which you will use to grow your profile's followers, can be painfully slow. This is why you don't just leave it to chance.
Playlist exchange is a community that freely promotes independent Spotify playlists and helps curators find new songs to update their lists.
Note that this process does not guarantee a booming increase in the number on how to get followers on Spotify.
Collaborate with other Artists
As an artist, pushing your music into new territories may require assistance from other artists in creative collaboration.
In a collaboration between multiple artists, one fan base's loyalty for an artist involved can get transferred to the other artist, and vice-versa.
A prime example of this has been the collaboration between Nigerian artist CKay and others for various remixes and covers of his hit song "Love Nwantiti".
The widely acclaimed success of the song worldwide has been due to the different markets it has penetrated over time.
He first broke into the Ghanaian market on the back of the remix with Kuami Eugene and Joeboy.
The song then broke into the diasporan market with Chocolate City and Warner Music and into the North African market with the remix with ElGrandeToto.
The song's remix with Franglish helped Ckay break into the French market and finally into the German market through the remix with MCqasim.
Love Nwantiti even got a collaborative dance routine from TikTok celebrity Tracy Joseph, sending it viral on the app.
The success that CKay gained from various collaborations, his followers on Spotify have increased exponentially, with users worldwide.
Social media is one of the biggest marketing platforms on the internet. As a musician in this era, you should also be using it as much as possible to increase your monthly listens and grow your profile's followers.
These networks provide you with access to more than half of the world's population online.
Your strategy should convert these people on the social media network you reach them on before directing them to Spotify. You can just focus on leading them to Spotify for the whole conversion process.
Social media networks also help you with Key Performance Indicators to help you track your progress as you execute your campaigns.
Get covered by Music Tabloids
Many tabloids have built up quite a fanbase over their years of operation in the music industry.
Many music lovers hold the opinions of blogs such as Pitchfork, Hypebot, Music Business Worldwide, Billboard, etc., in very high esteem, to the point of following musicians immediately they are recommended on such platforms.
Getting your song and career profiled by these tabloids offers you a better chance to sell your vision to your targeted audience.
Readers connect better through such articles than people listening to your songs alone.
Thus, in your marketing efforts, when submitting songs to curators of playlists or when you're sending out newsletters about your released songs, try as much to reach out to tabloids that will feature you in their articles.
During these interviews, try to get readers interested in you and then direct those interests to your Spotify profile, where you should have already set up a landing page to continue the process.
In 2017 Spotify introduced Codes to simplify how music on the platform got shared.
Spotify Codes works by generating a unique QR Code that can lead anyone to a particular song, album, or playlist.
The simplicity with which people can reach your profile increases the probability of gaining more listeners and followers.
Why Do You Need More Followers on Spotify?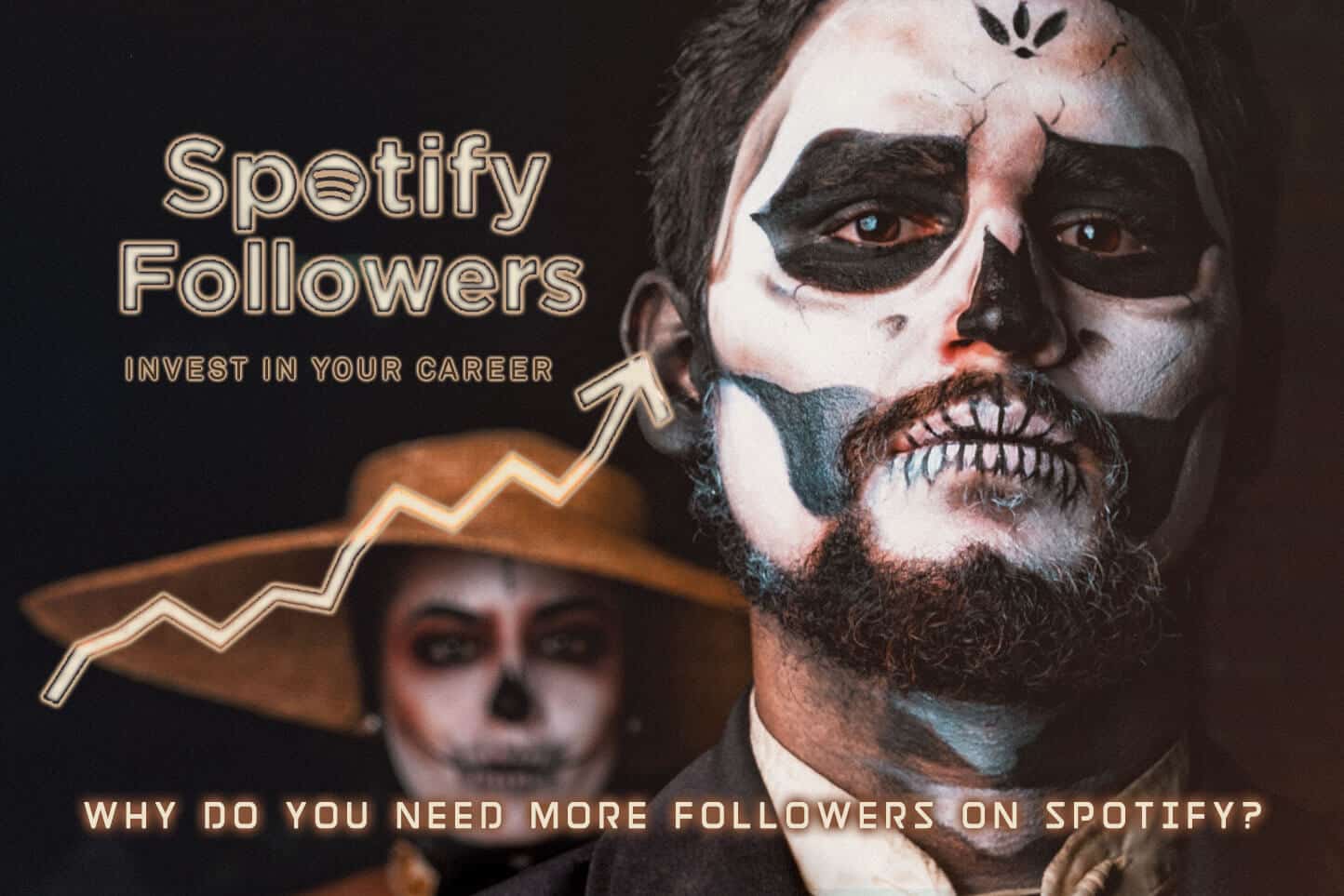 Having more followers on your Spotify profile has many advantages as an artist. Followers invest in your career and present you with a market that is always ready to consume your music.
Many music artists tend to get a considerable number of streams on Spotify with just a few followers. This creates a low listener-to-follower ratio for their artist profiles.
The listener-to-follower ratio is based on the percentage of a musician's followers on the platform to their monthly listeners.
This metric is vital in measuring the growth of your career and the level of your fan engagement.
A ratio of 1 suggests that all your listeners are converting into followers, which is a good thing for a musician's career. The lesser this ratio is than 1, the lesser followers you have compared to the number of monthly streams.
A low listener-to-follower ratio suggests that your listeners are either family, friends, or people who listen to your music by chance.
The probability that people will stop listening to your song is high if they are not your followers. It is, therefore, important that you make it a goal to increase your listener-to-follower ratio by gaining more followers.
Can You Buy Spotify Followers?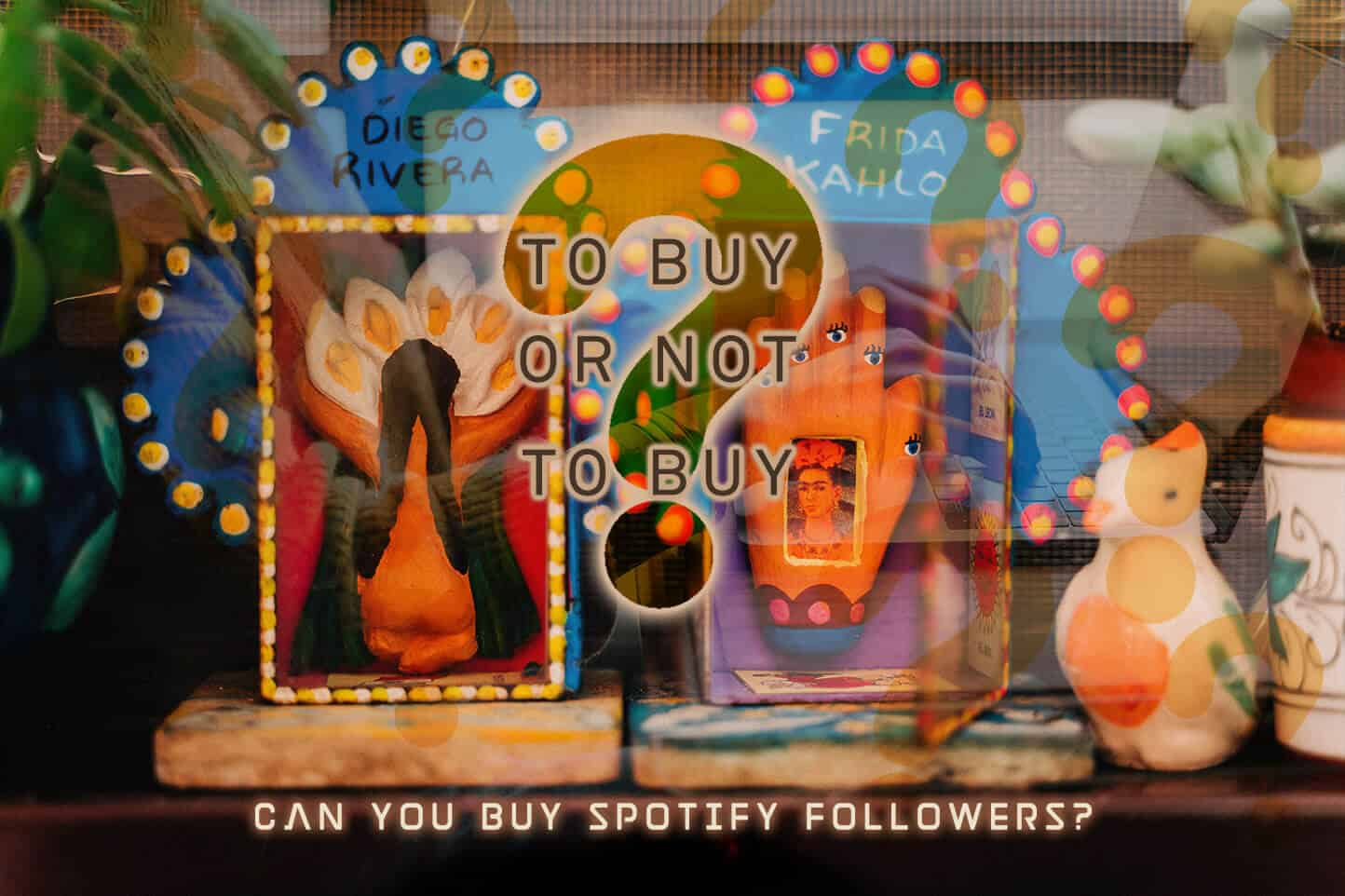 Social proof is one of the main reasons why having a sizeable number of followers can benefit you as a new artist. It helps people overcome their reluctance to try new things like listening to a song that was just released or checking out the music catalog of an upcoming musician.
Applying this phenomenon to your career, buying hundreds or even a thousand Spotify followers makes it easier for your profile to gain more traction.
When people chance upon your profile as a new artist, they will be more likely to check it out if you already have 800 followers instead of just 50.
A new artist with a sizeable number of followers over a short period will make users curious about what you are offering to make others troop to you.
Buying Spotify followers and plays may not be illegal, but it is not an action that is recommended so much for any artist. Although you may get a high follower count, this won't reflect within the number of monthly listens you get.
800 followers with, say, 20 monthly listen immediately draws the attention of users and the Spotify algorithm that your account is not organic. The locations of purchased followers are usually the same across artists buying from the same providers. This pattern is quite recognizable to anyone paying attention like Spotify is.
So to answer the question, you can buy followers for your Spotify profile for obvious benefits, but you should keep this at a minimum as it may end up hurting your profile instead if overdone.
Spotify's algorithms have been programmed to detect and punish profiles that buy followers. Also, when users tag your profile as one that buys followers, it leaves a stigma.
Wrapping Up
Service providers such as Songlifty have spent years mastering how to get followers on Spotify. We can promote your songs and help you gain organic followers on YouTube, Instagram, Facebook, TikTok, and especially Spotify.
As a musician, we provide you with geo-targeted marketing, active users, a guarantee to replace drops in followers, and excellent customer service for as low as $45.
Reach out now and let us help you gain followers on Spotify to boost your career.